PRETTY, PRETTY, PRETTY GOOD.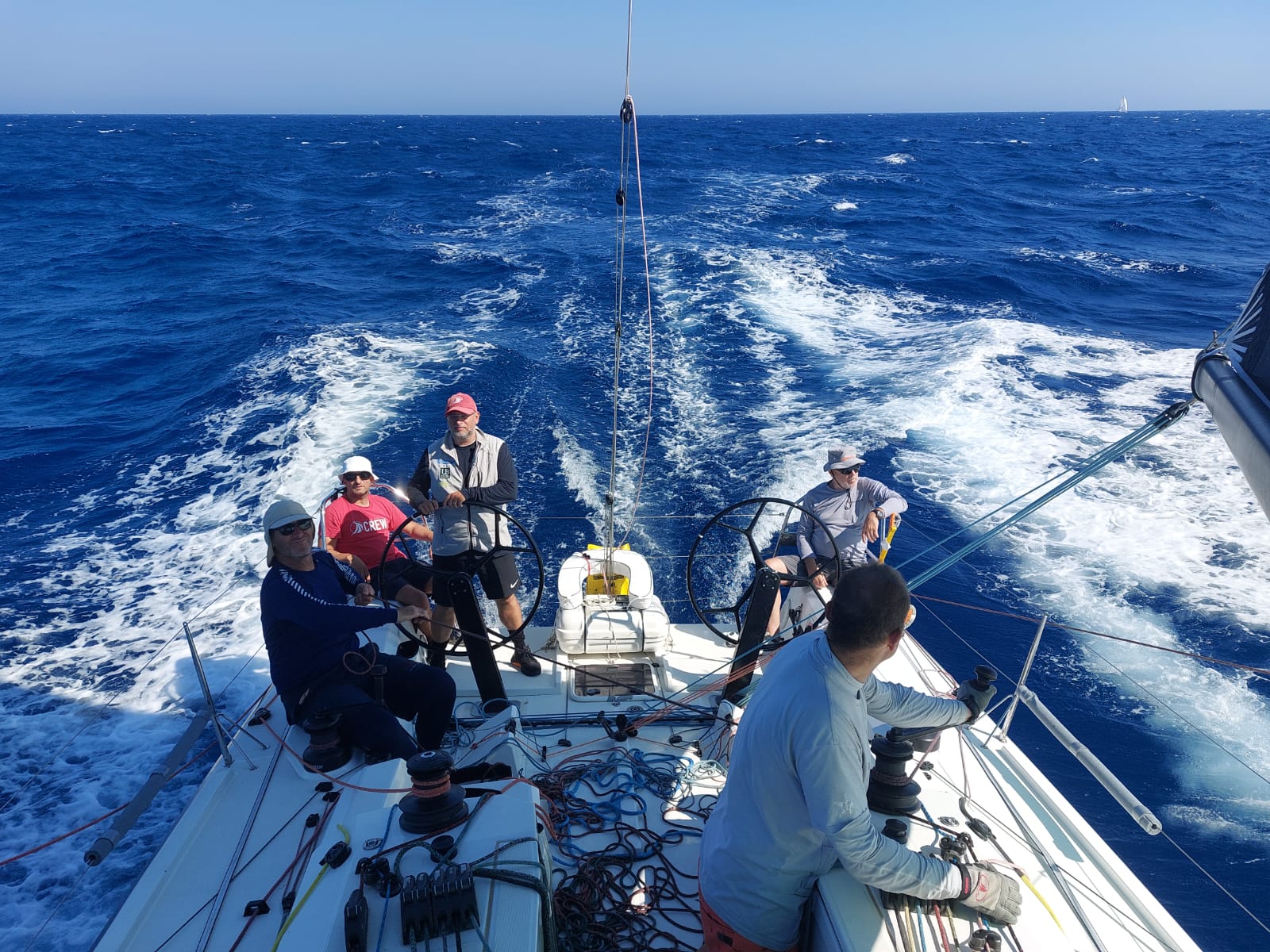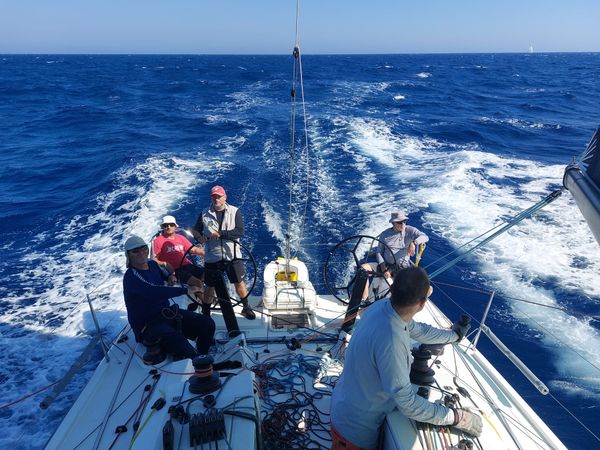 The "International Regatta Brindisi- Corfu" (www.brindisi-corfu.com) was founded in 1986. During the first two years, the competition was limited to vessels from Brindisi.  It was three years later that the participation of aggressive Corfiot boats began. In 2022. I was able to be a part of a multinational crew - a French boat under Greek flag, a Bulgarian owner, and a Bulgarian - Croatian crew. So we added a nice mixture to the already colourful image of the race - 78 entries from Italy, Greece, Croatia, Malta, Bulgaria, Sweden, Great Britain, Spain and USA.  Our boat was lying in Corfu, so Nikola and I flew there to prepare everything for the delivery to Brindisi. The boat is a Sun Fast 3600, named after the American rock band from the 60s - "Iron Butterfly". The first look at the boat already showed that it is fitted to be fast - custom Southern Spars carbon rig, full North Sails 3Di inventory, B&G instruments and lots of other racing gadgets. All in all, it makes you smile.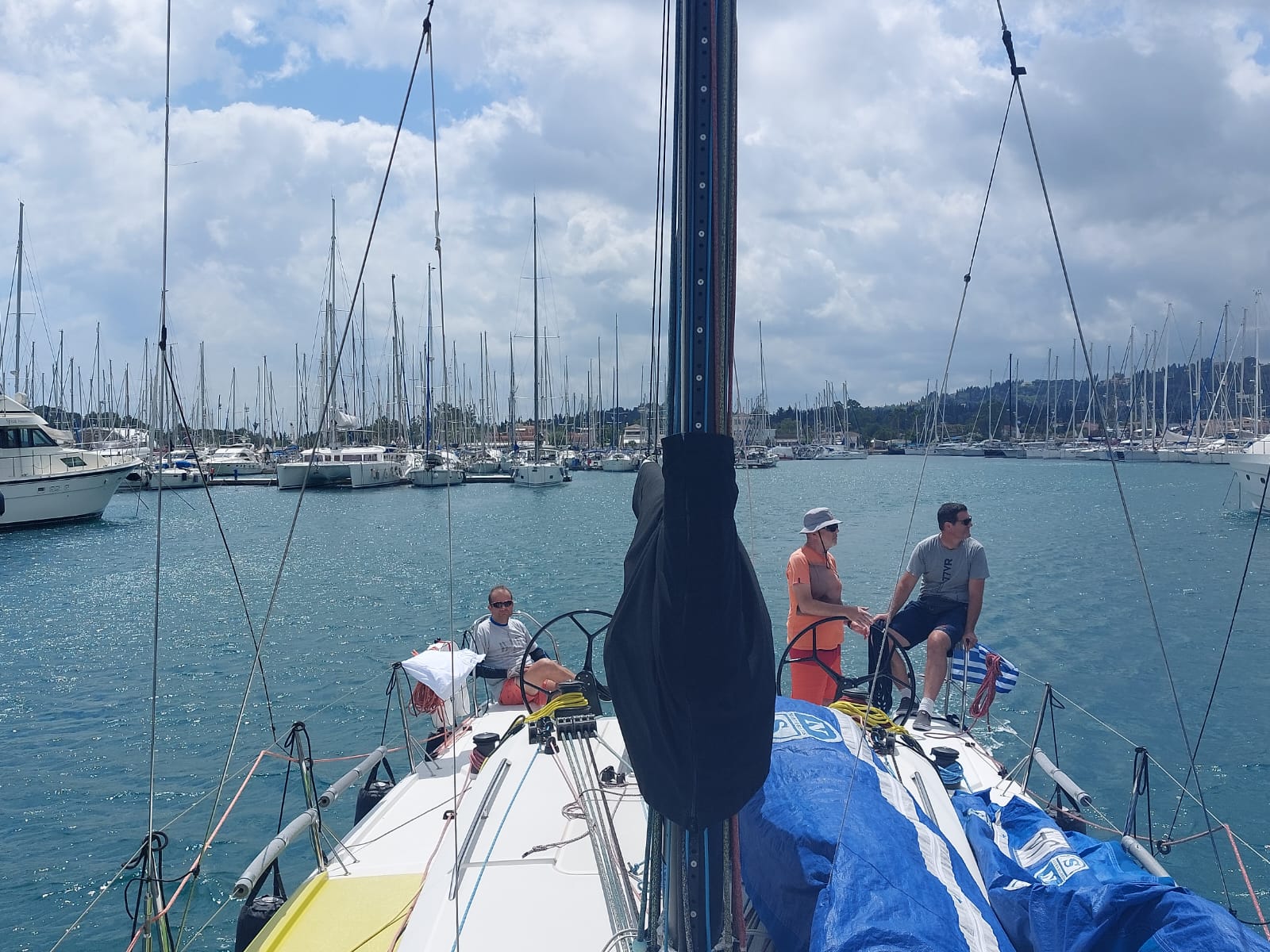 Anyhow, the boat is ready, we meet the owner Nasco and his friend Dobry and we are ready to sail to Brindisi. A nice south easterly makes the first 30-40 miles pass by quickly, but than the unstable atmosphere with a low passing by shows us a good time. The first squall hits us around 8 PM, just before sundown.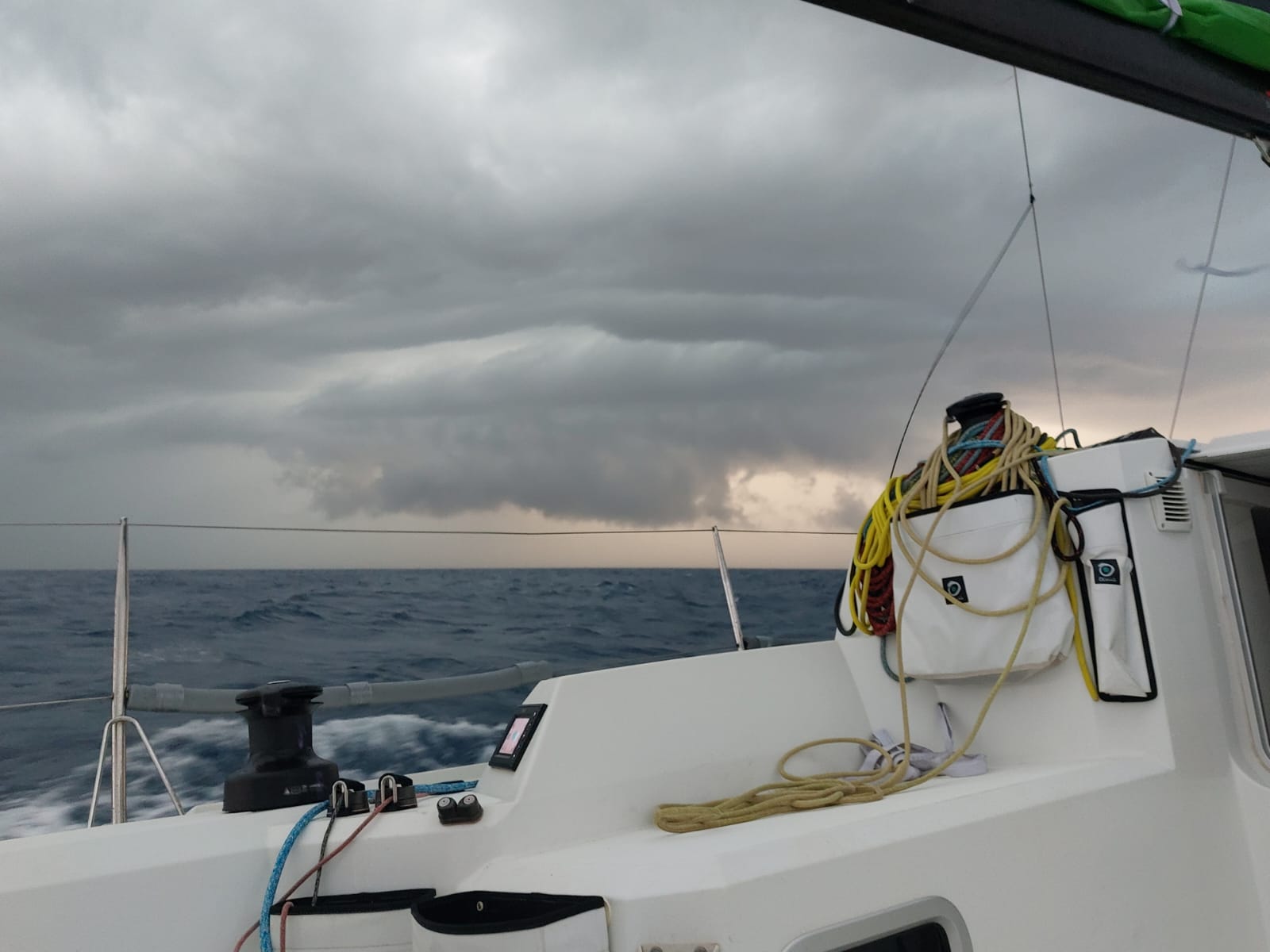 The second one comes around 1 AM with lots of wind and a lot more rain. It's all part of the game, the only problem is that between the squalls there's no wind and we are slowly motoring towards Brindisi. Early in the morning, around 6 AM we enter the rather big Italian port of Brindisi. A lot of industrial buildings make it hard to appreciate the traditional Mediterranean architecture.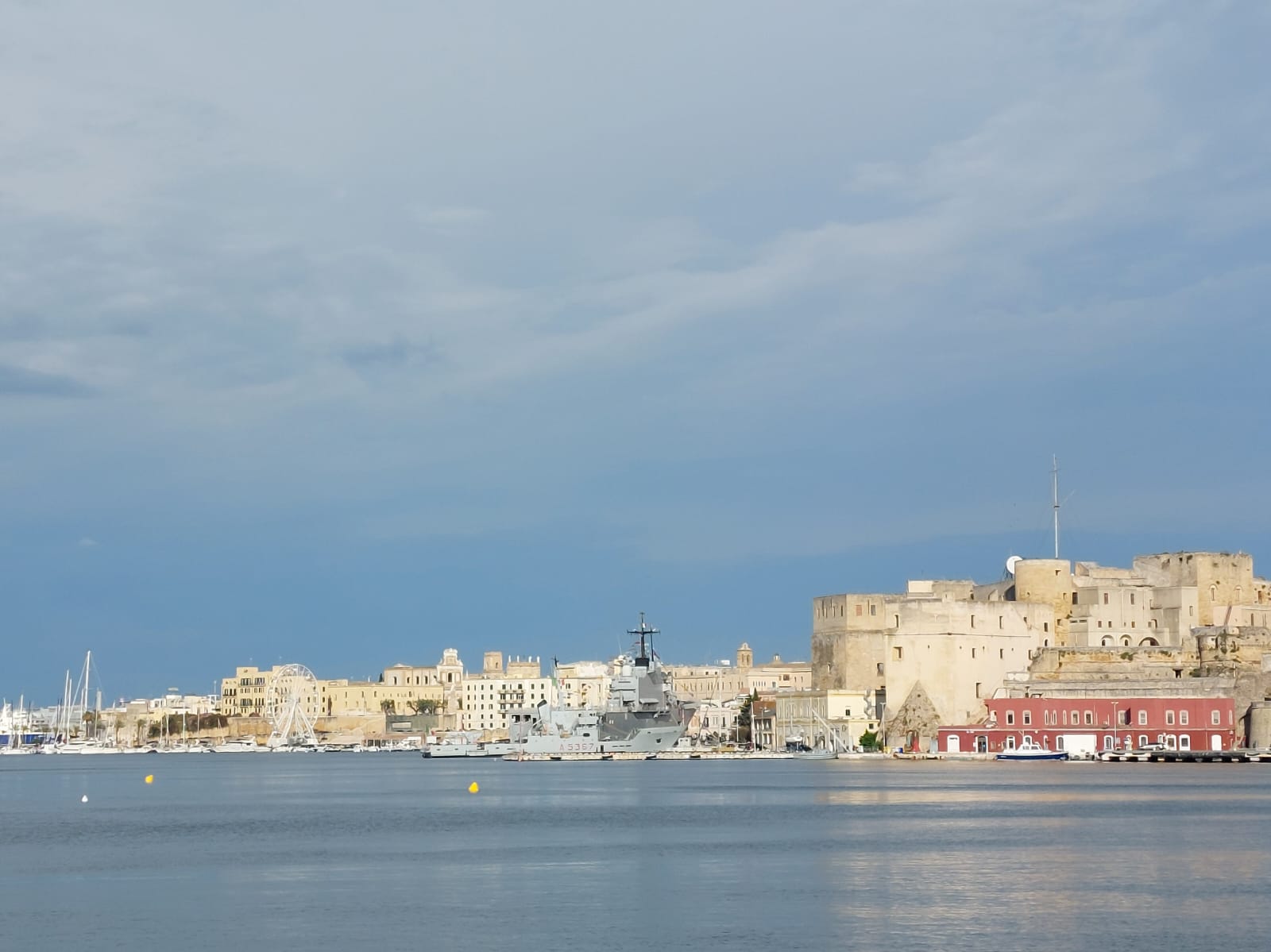 In the next days we are preparing the boat for the race, gathering and installing all the safety equipment, checking the sails and finally - making some tourist routes around the city. The other part of the crew - Marko and Sapa are coming on Saturday evening, bringing a brand new 3Di mainsail for the race. Unfortunately, as the forecast predicted, there is a lot of wind on Sunday (30+ knots of north westerlies), and after a short wait around the starting line, the Race Committee postpones the start until Monday morning at 6AM.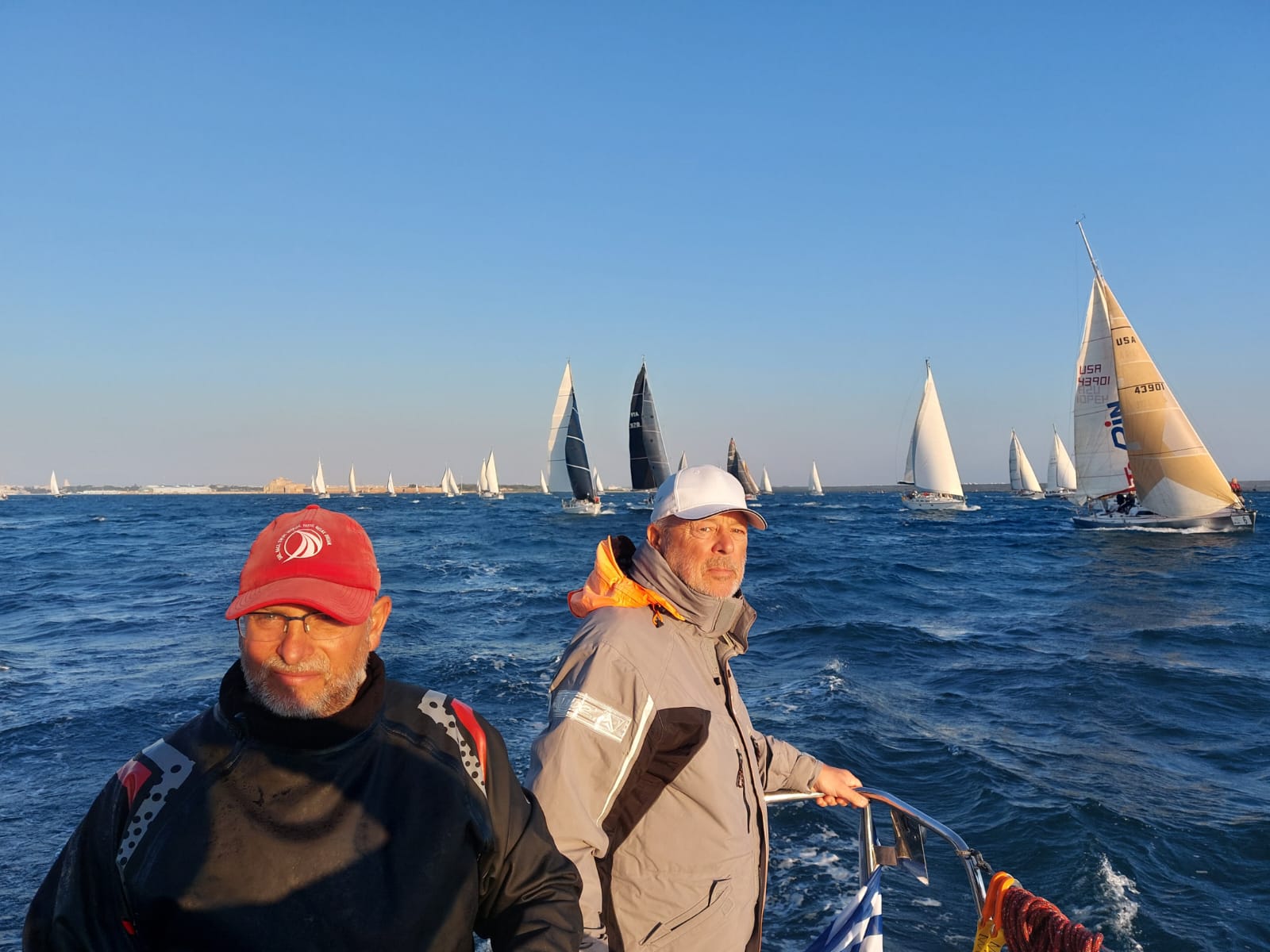 There are 78 boats racing in this year's edition with a variety of different designs and lengths, all racing under the ORC rule. So, a fair chance for everybody. We are pretty psyched about the start so we start full power in 25 knots of north westerlies, under full main and A5. Soon after the start we change to A2 as the waves become longer and the surfs faster.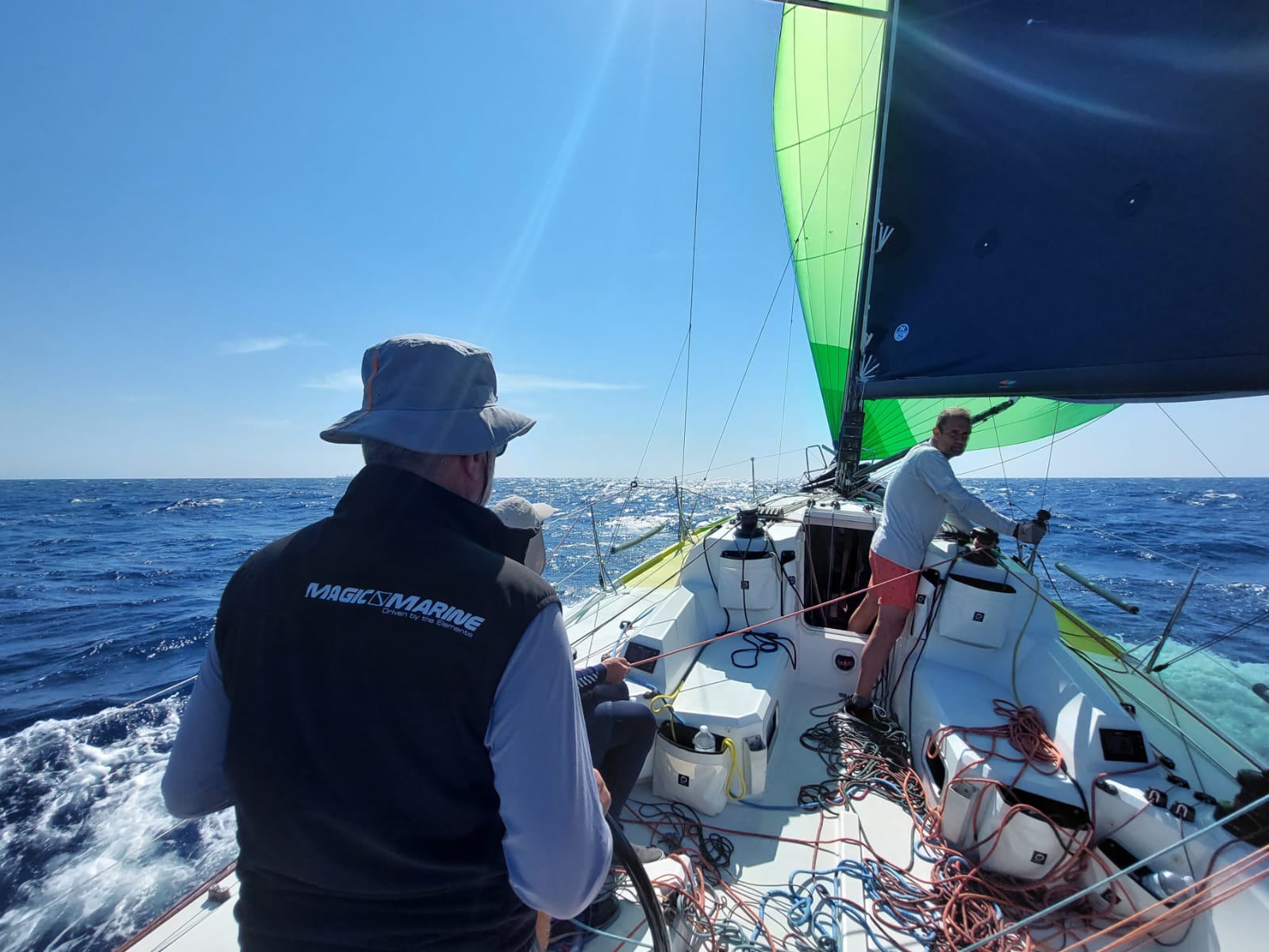 The wind varies from 20 to 25 knots, getting stronger near the Italian coast. After consulting our routing options, we decide to stay closer to the Italian coast before crossing the Otranto strait. Again, I was surprised at how little ships we met crossing the Otranto. There were definitely better days for the shipping industry. Back to sailing - the route to Corfu is 104 miles long, meaning there is plenty of time for the conditions to change. And so it is, some 40 miles before Corfu the wind starts to drop slowly, knot by knot. 15 miles before the finish there are only 10 knots of wind left, 10 miles from the finish only 5 knots and we knew we were headed into some really light winds just before the finish.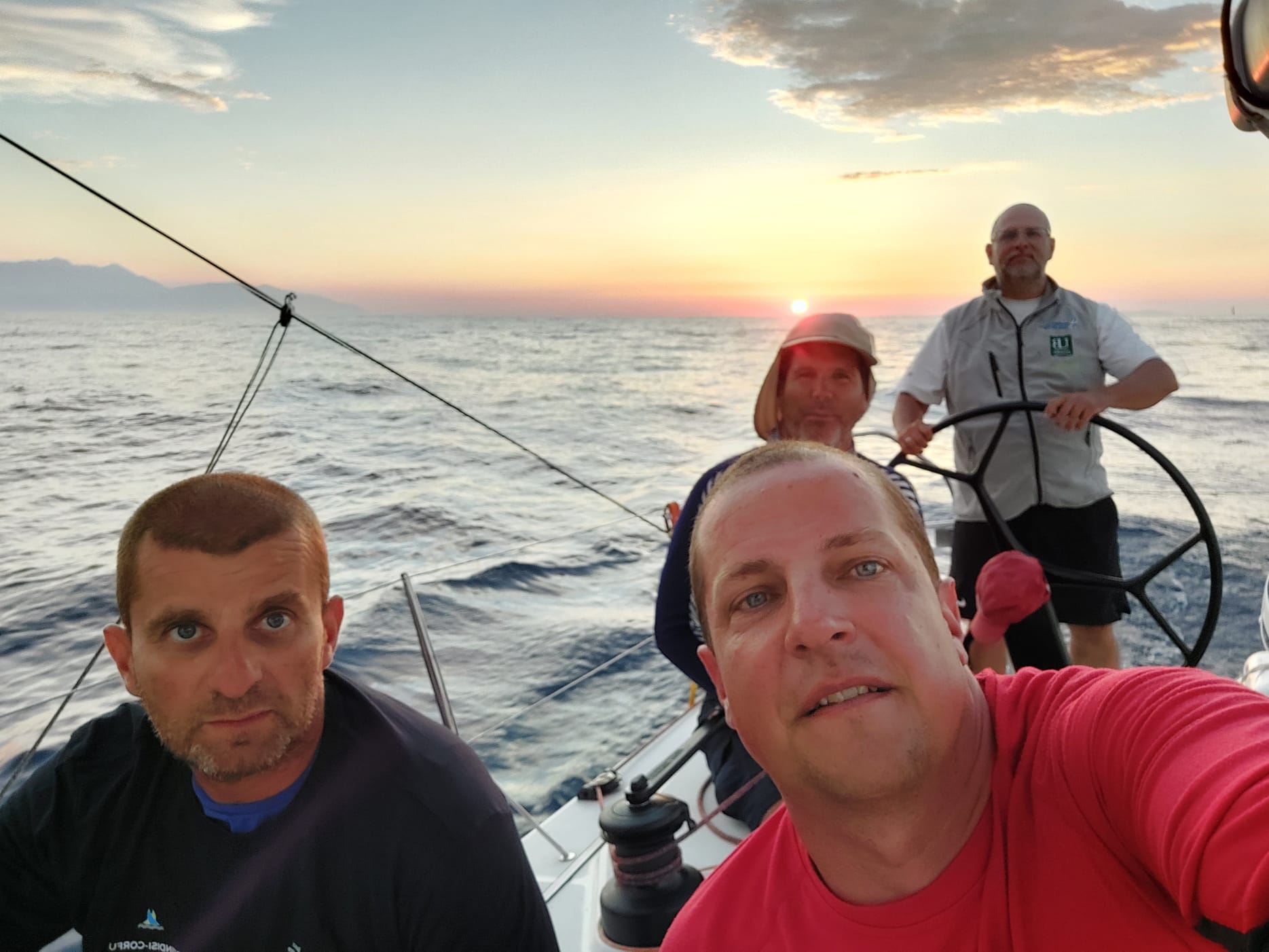 But we keep our morale high, Marko is making some good strategic choices and we are gaining on the boats ahead, mile by mile, minute by minute. A mile from the finish line we come to a complete stop, and the AIS is showing others boats closing in at higher speeds. But they will stop too, no worries.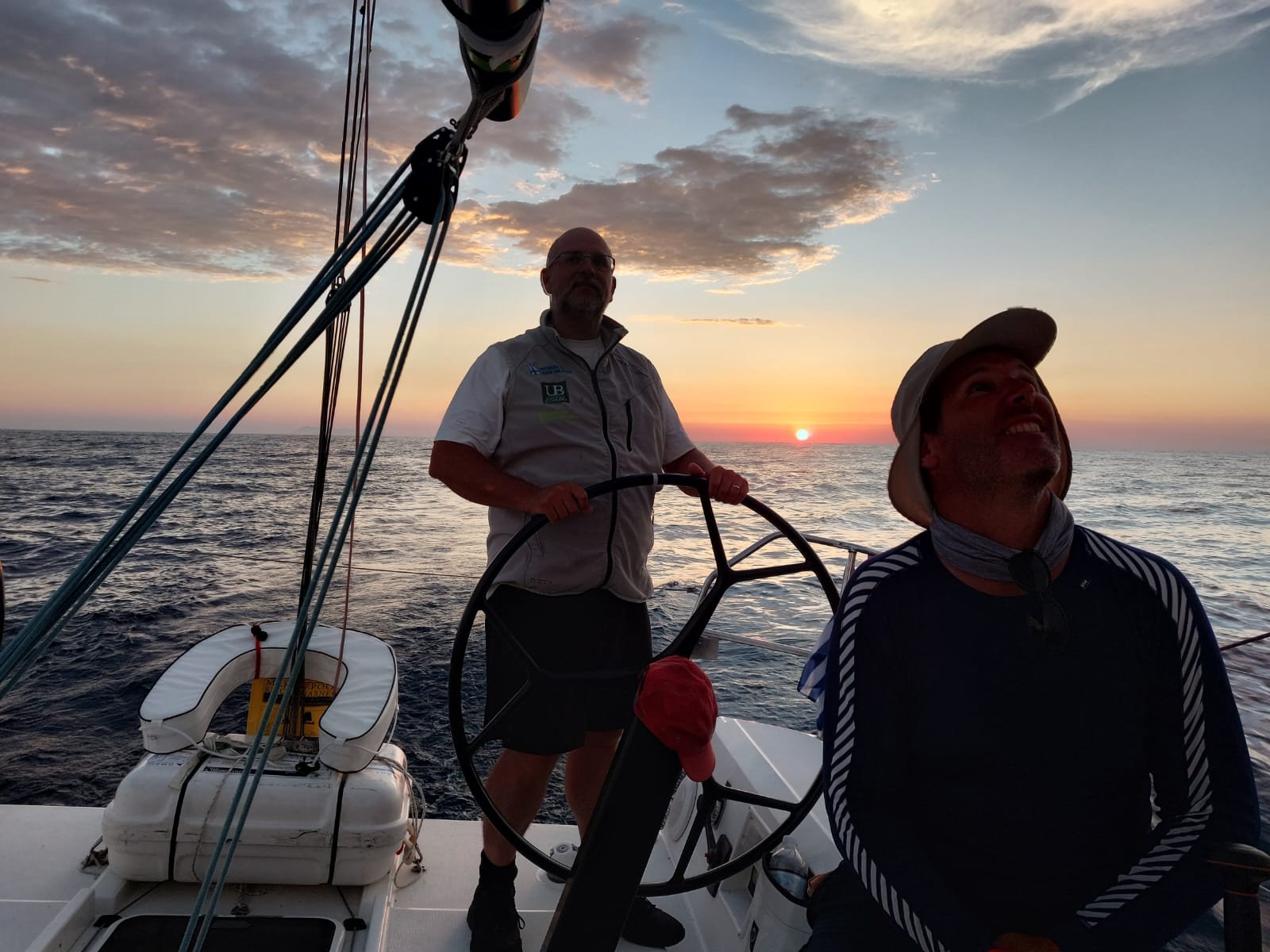 The slow motion finish finally comes to an end around 11 PM and we are all excited and proud to have entered 5th in real time. Now we have to wait for the compensated times, but with such a good race behind us we can only expect the best. But the but is always there, and just minutes from our finish Marko gets a message from the RC that we have to be present at the official crew weighing tomorrow at 9.30 AM. We know that our weight is close to the max allowed limit because we changed a lighter (read: female) crew member for a heavier (read: male) in the last moment, so we decide there's no more food or water until tomorrow. Not an easy decision, after 17 hours of racing we can't eat a nice steak? Merde. But it is all for a greater cause, so we don't mind. After a good night's sleep, we wake up for an early walk and prepare for the weighing. And, as usual, the scale is showing more than expected. We are 5 kilos over, and we have an extra hour to get rid of them. There is no other way - foul sailing gear on, and all of us are out for a nice jog in the Greek sun.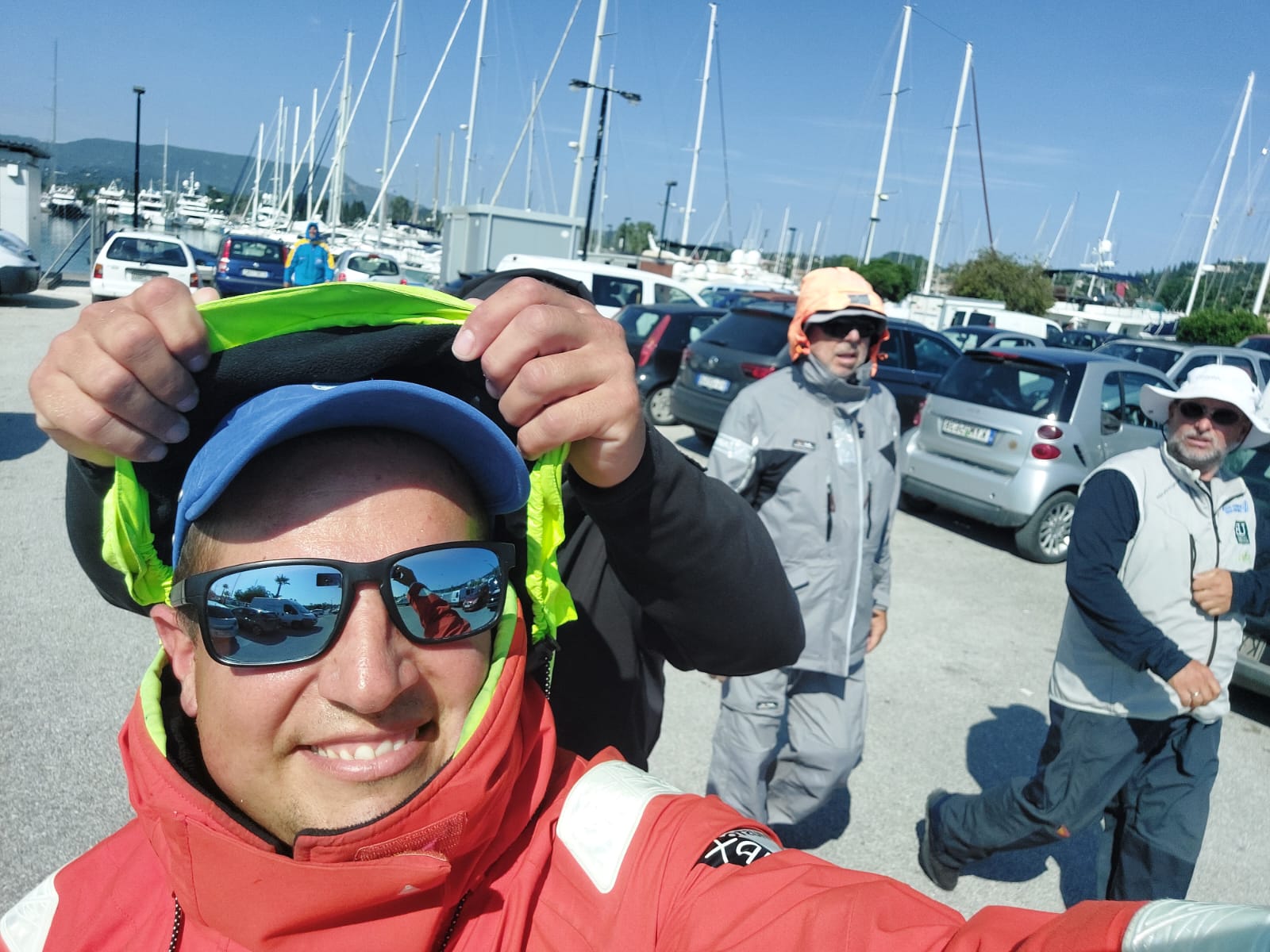 It's 30 degrees out and we are sweating like crazy. The regular folks are pretty confused seeing 6 guys running around the marina in sailing suits. The real connoisseurs of the ORC races are just smiling, they know what is really going on. On the second weighing, we are 2 kilos below limit meaning we managed to dry out 1.5 kilos each in just one hour. Not bad, not bad at all.
When we draw the line, we managed to enjoy a really nice race in perfect weather conditions with a super happy crew, in a great boat with an excellent result - 1st in ORC C, 1st in real time for the Groups B, C and D (the ones that started 10 minutes after the ORC A and Multihulls), and 1st in compensated times for the same Groups. And not to mention 3rd in ORC overall - www.brindisi-corfu.com/en/classifiche/ .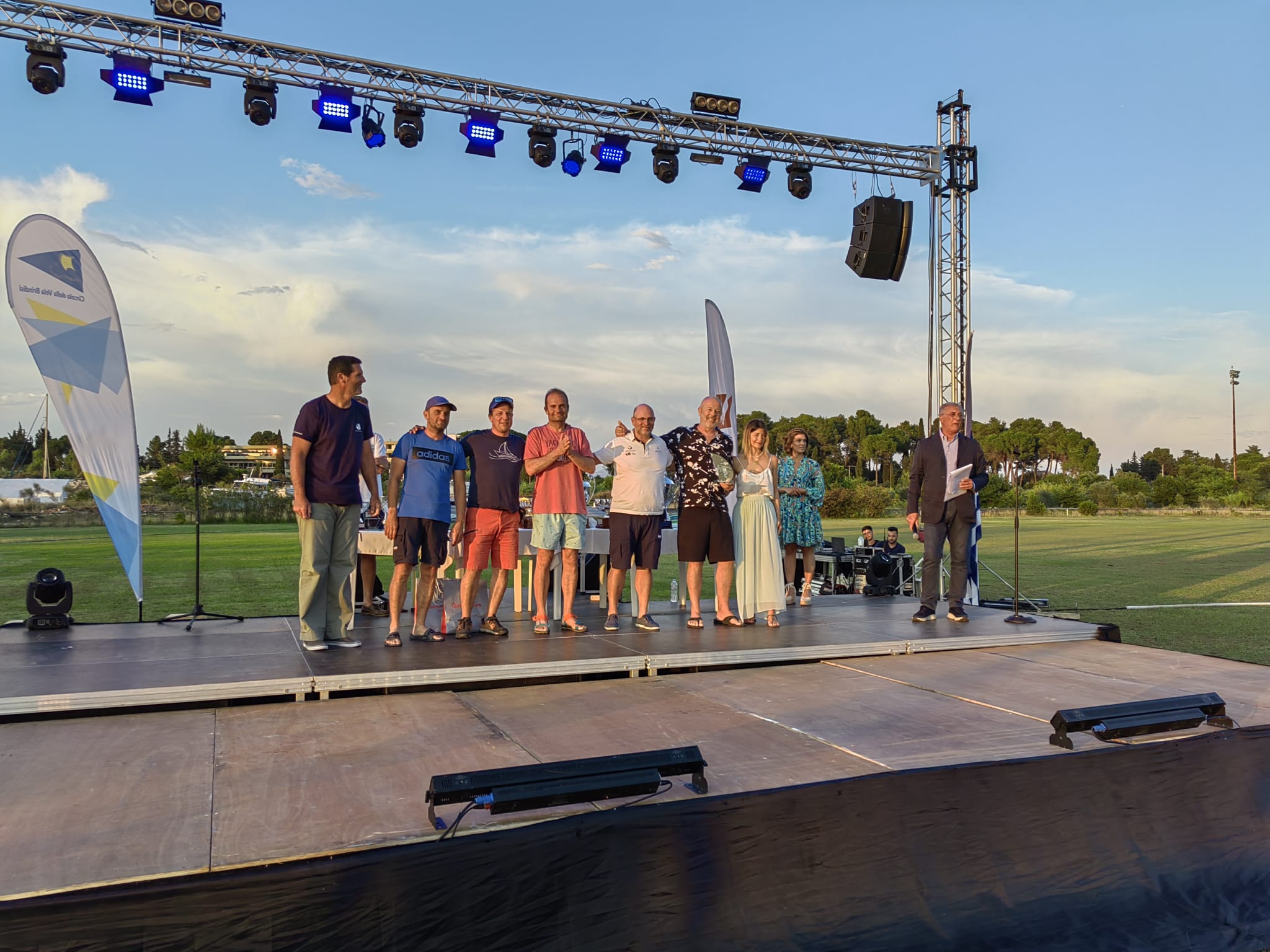 You must admit it: it sounds pretty, pretty, pretty good.