LA PRIMERA ETAPA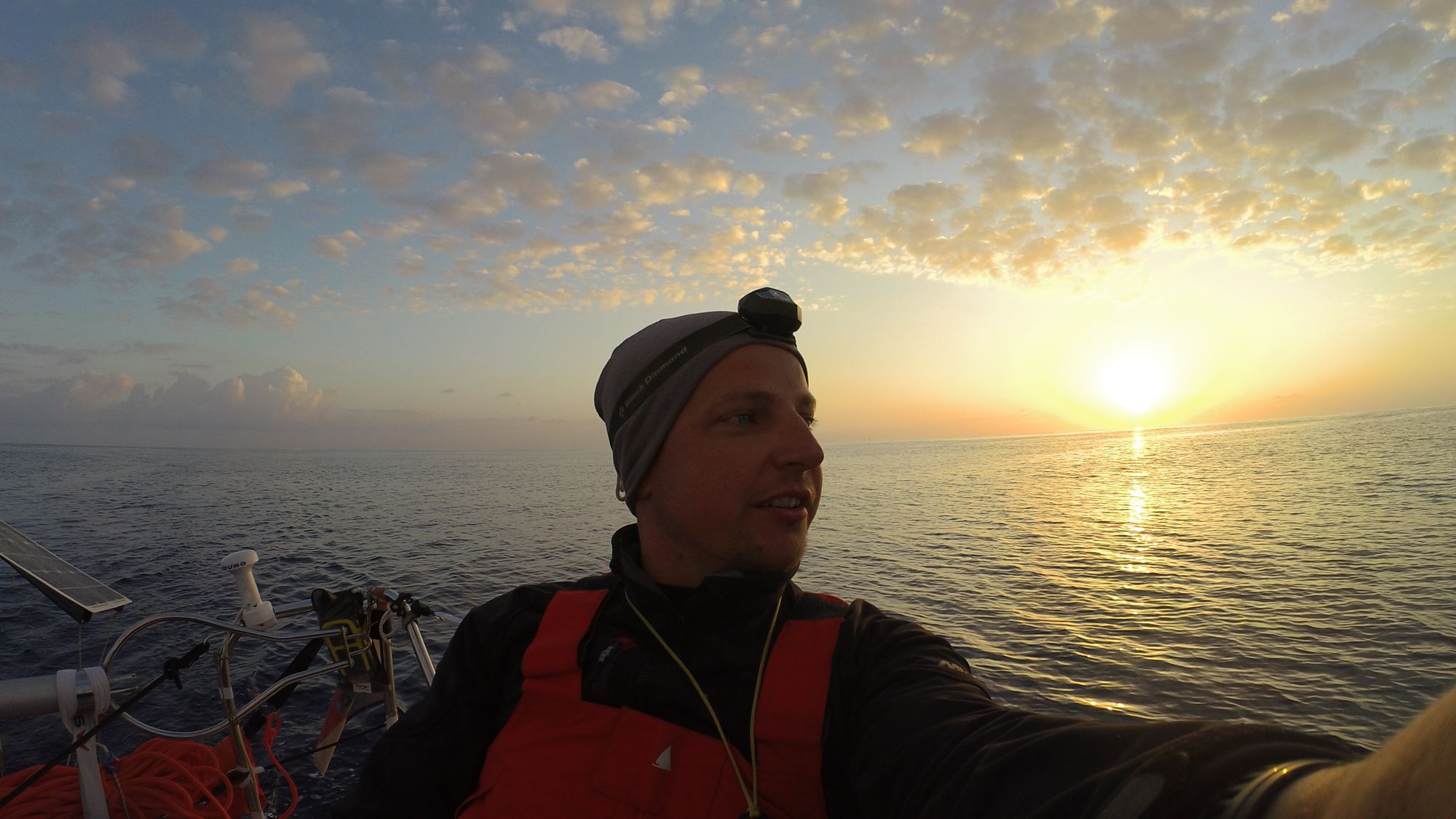 It's been a while since I've entered the "relax" mode, 10 days to be exact. The first five of which I was sleeping, eating and drinking and the latter five I was cruising Gran Canaria and Lanzarote in the sweet company of my beloved Tubo. I feel like I've earned a good rest, seeing the first leg lasted a little longer than expected and seeing I did pretty good.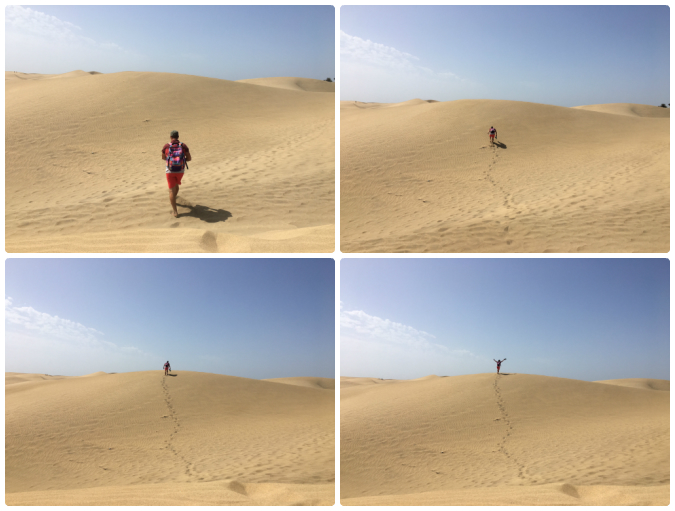 It all started pretty well, on Sunday - October 1st, in front of La Rochelle, the "bon depart" was announced at 16.00 hours and we were off! Although the start was on that particular Sunday, I think I realized I was sailing the Mini Transat only a few days later, after getting into the rhythm of the boat, the race, the Universe :) At the start we had 15-18 knots of westerlies, meaning upwind sailing in quite shaky seas for the first night. And boom, on that first night I get seasick, for the first time in my life. Although I think one can never get sick from the sea, it's too damn nice even when it's ugly. But still, I am paralyzed for 12 hours, lying on the spinnakers inside and putting my head out every now and then, just to burp some air and stomach acid into the Ocean. Eloa is sailing by herself, I only manage to put one reef in the main, and it seems she can handle it quite well. I feel proud of her, and a little ashamed of myself. But in the morning, as soon as I get a little better, the two of us are slowly becoming one, hour after hour, day after day..It's funny how a person can get attached to some fibreglass, aluminium, dacron, dyneema and various electronic devices and cables.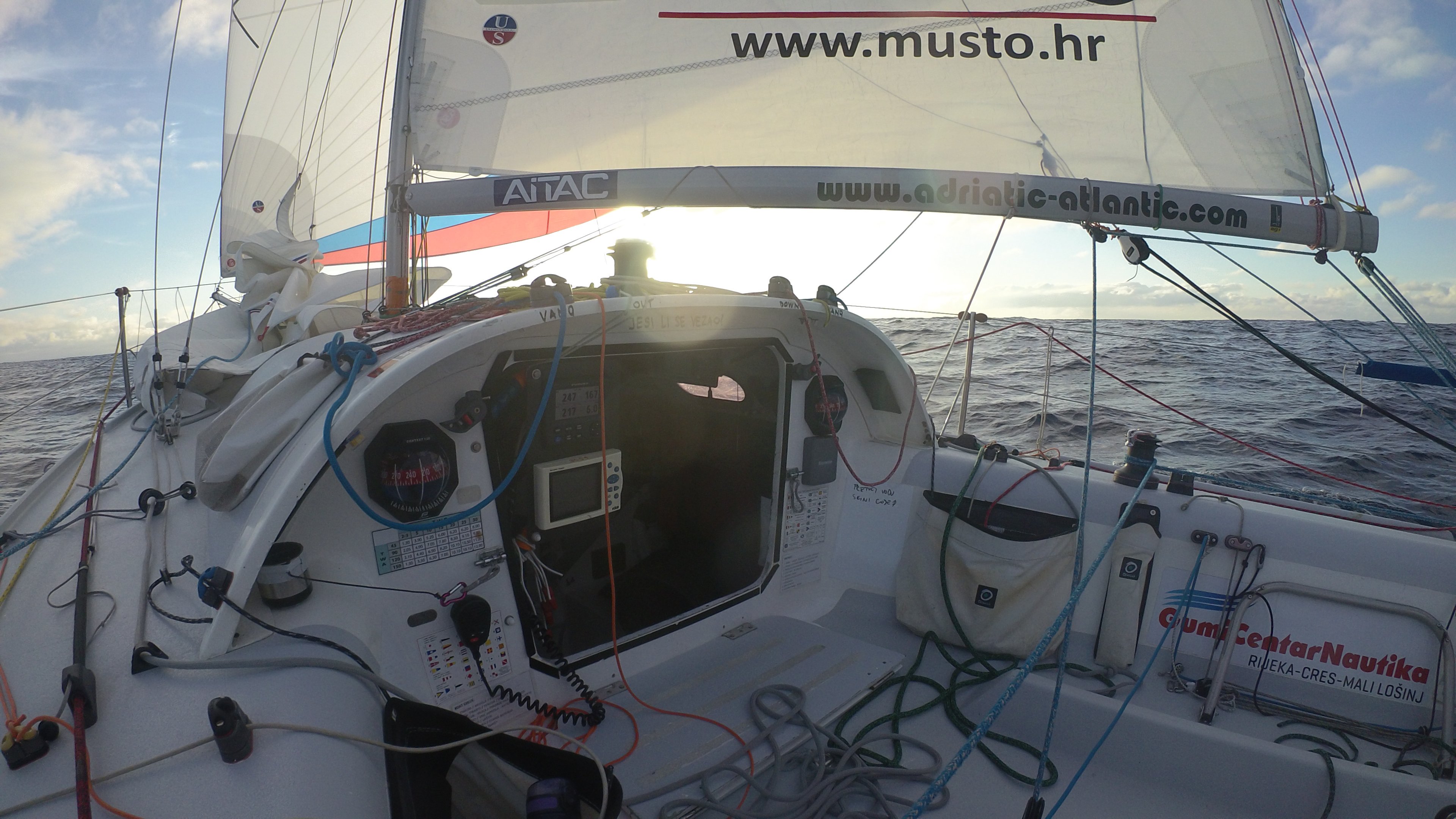 The weather is pretty nice so we start looking for the optimal route to Cape Finisterre. Following Jure's routing, we sail near the rhumbline coming down to the Spanish coast at the longitudes of Viveiro. But it looks like the southern group is sailing a little faster.. No worries, there are still plenty of miles to go in this race. That's one of the things I discussed with Pavel before the race - there's always a second (and maybe a third?) chance in such long races - anything can happen to anybody. Approaching Cape Finisterre, the wind starts turning NE and building up - as predicted. I decide not to force upon anything and we are sailing the conservative butterfly sail configuration at Finisterre. Today, when I look back, I say I would do it differently, but I guess I had to gain (self)confidence than. We are nearby Dado, who is pretty pissed seeing he already broke a bowsprit. But he decides to put the smallest kite up and zooooom - he's off! That's the last we'll see and hear of him until Gran Canaria. It's at that time that my mic on the VHF stops working and I enter "stealth" mode - nobody can hear me while I can hear everybody on the VHF radio. Cool, I think to myself, it's the ultimate second leg experience. But still, it's pretty shitty if you need to call for help. That's what comes to mind after I hear the Spanish coast guard at Finisterre communicating with Luca (538) after he dismasted and had to be picked up by a helicopter. It was the fourth boat that dismasted, and it was only the fourth day of the race - not a nice statistic. But anyway, as I was sailing the conservative mode for sometime now, after I realize I am ready to fly, I hoist the code5 and voila' - we're off. The wind is steady at 26-28 knots and we are (finally) zooming off the Portuguese coast into the Atlantic Ocean. I feel confident, the pilot is working like crazy, I never thought it could handle that much wind. Eloa is fast, not too comfortable, but fast. We are trying to keep the rhythm - eating, sleeping, drinking and most of all - enjoying the moments at sea. This is the power of the Mini Transat - you are alone with your thoughts, your decisions, your expectations and your goals. A true solo experience!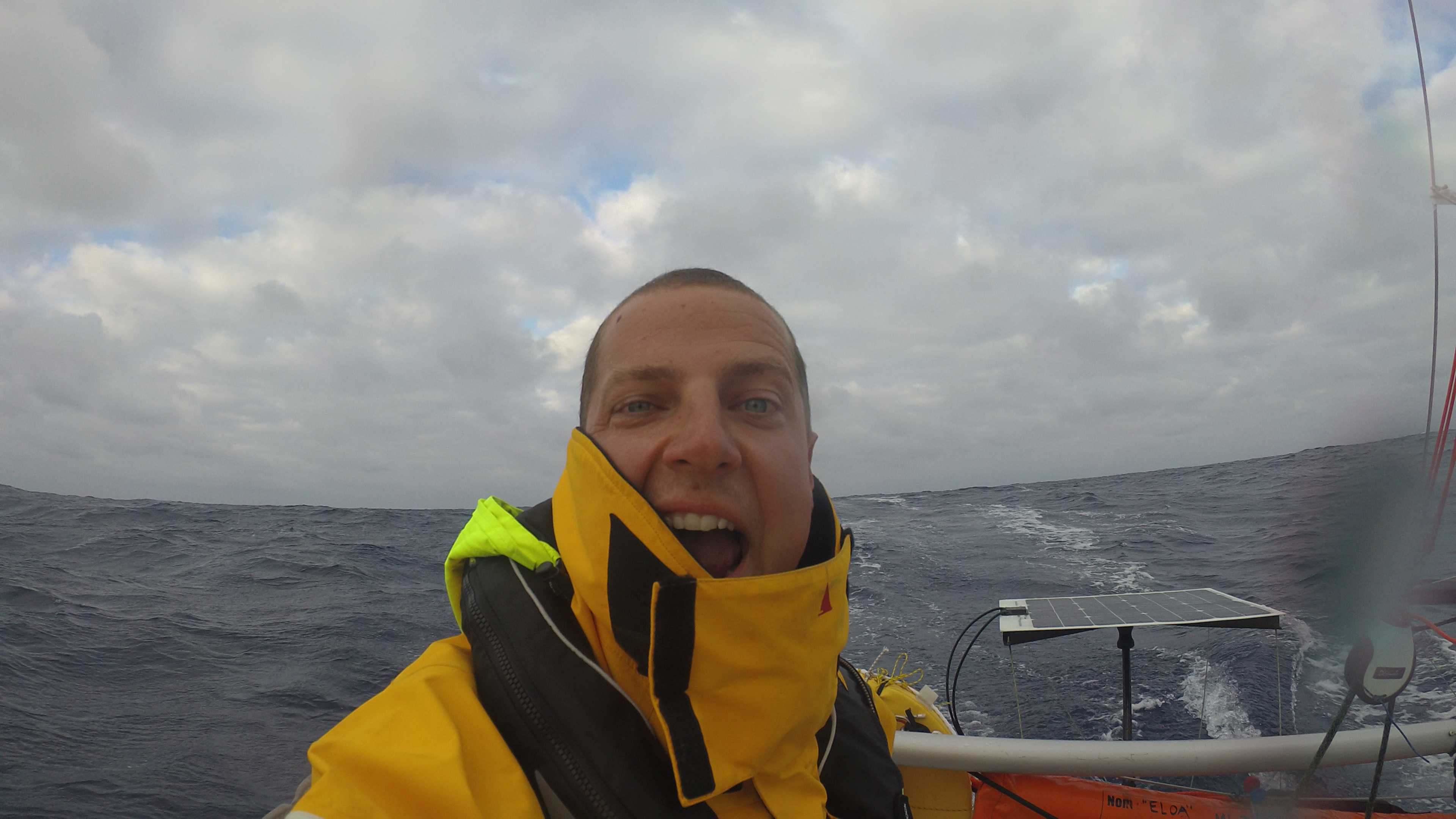 The only thing missing at this moment is the Sun, but it will show up as we head further south. All systems onboard Eloa are working fine, and I feel proud to be a captain of such a powerful craft. We can hear the daily weather and ranking update, we have enough energy for all electronic devices, the music is playing all the time.. a thing of beauty!
As soon as the wind drops I'm changing sails, stacking bags and water canisters inside to get the optimum boat trim for those conditions. It's not easy, but I have all the time in the world. And I can scream as much as I want, no one can hear me. According to the ranking update, we are somewhere in the middle of the fleet, and the only thing worrying me at this point is Dado's ranking - he is in the last group meaning - he's got problems. Not nice to hear, especially when I can't communicate with anybody and try to find out what's going on. It's Saturday, October 7th, and we're flying the big kite with a reef in the main in 18 - 22 knots of wind. The mother of all sailors' dreams - the endless downwind run. We are pushing hard for the whole day seeing the weather report says light winds in the next days. I am at the helm most of the day and the first part of the night, but I don't mind, it's so nice so I don't even notice time. About time, it's really hard to put up a time frame while sailing solo with no communication in the Ocean. It feels like a big long period in nature which no clock can ever measure.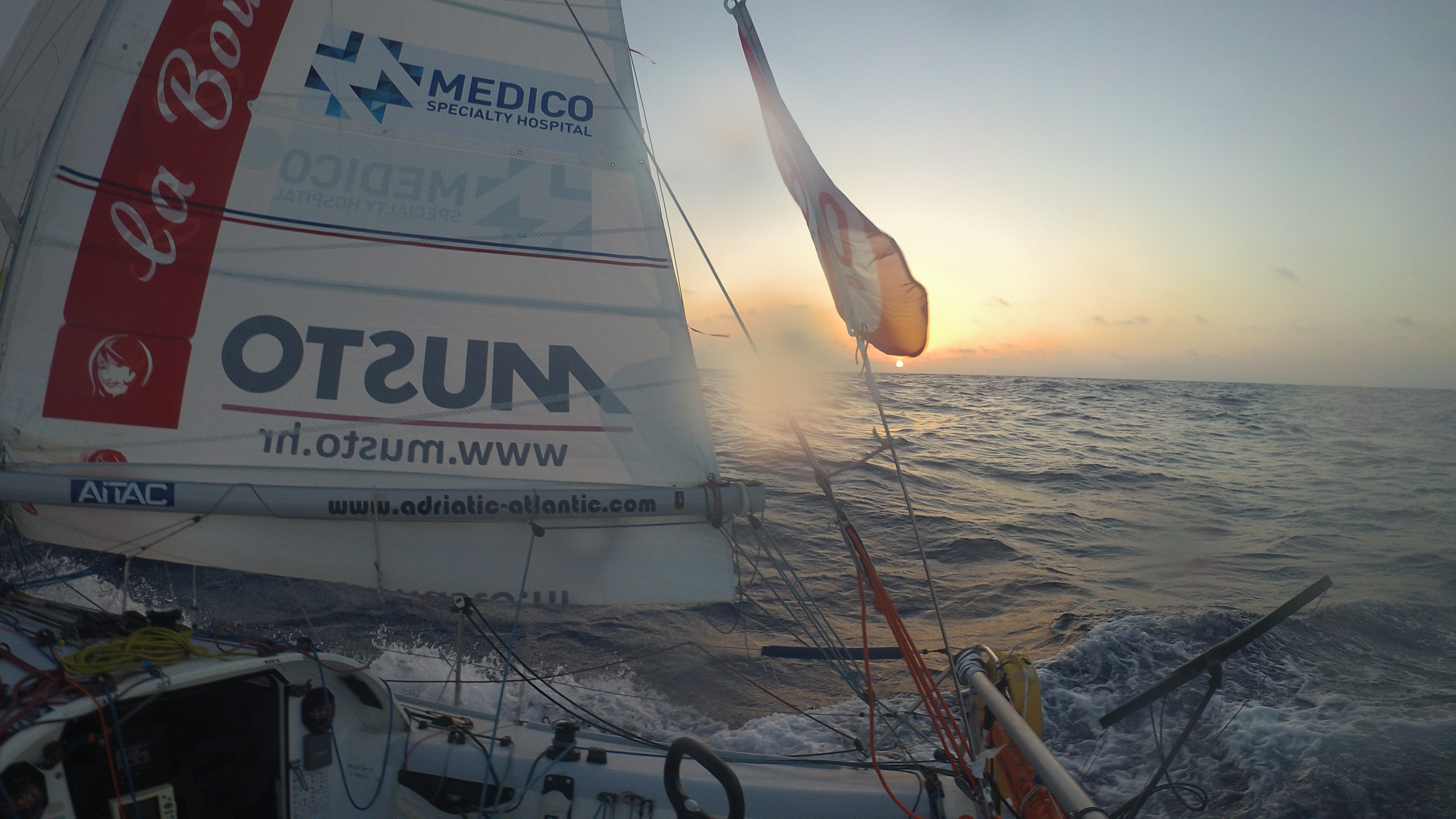 The next few days are all about light winds. That means we can take a shower, sleep, eat and rest. "Self-management", that's the word I heard from other Miniists before the start, and I think it represents what's most important in this race - how you manage yourself, your energy, your emotions, your mind and your needs.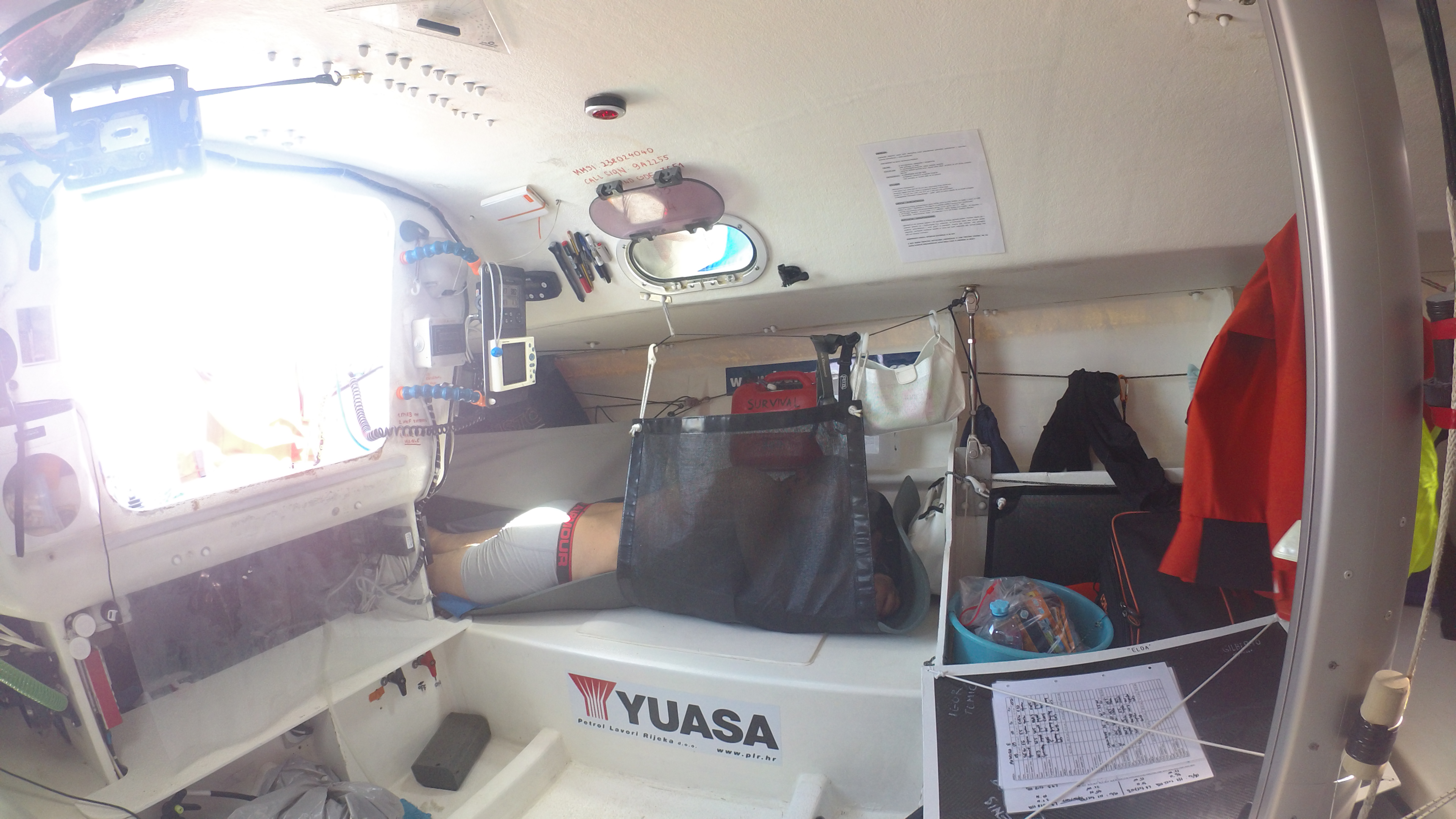 Listening to daily ranking updates, I realized we were gaining on the rest of the fleet, meaning we had to continue pushing down on the accelerator! So we did, I remember one night I had to put a reef in the main in 7 knots of wind, because Eloa was so overpowered with the medium kite in tight reaching conditions. But she liked it, and so did I. One day we even met a boat sailing to Porto Santo (near Madeira), our courses crossed which meant I could finally talk to someone! It's nice to meet people in the open seas, kind of romantic :)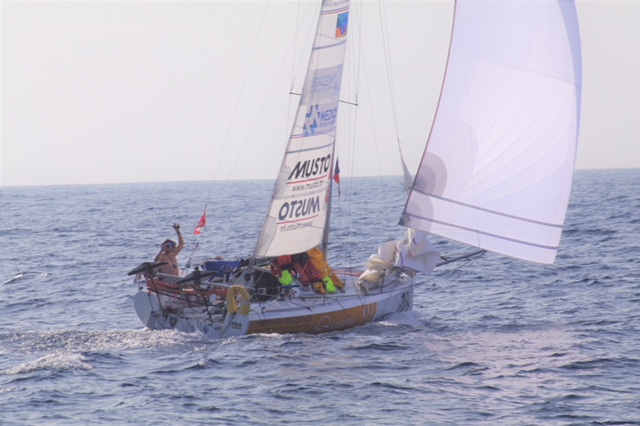 But, for the next couple of days: petole, petoleeee, the sailor's worst enemy. It's a bitch to sail in no wind, but it has to be done. I know it is our forte, and as soon as I see a group of boats on the AIS stuck in the petole, I feel good. I put two spinnakers in the cockpit (as a bed), prepare the alarm clock, put up the code0 and start the chase. First I follow a cloud and its breeze. Then we stop. Then the wind turns. Then we go. Then I put the autopilot on. And I sleep for 10 minutes. Than I wake up and start from the beginning. With the moon and the stars showing us the way. I cry sometimes, I'm happy. In a way I haven't been before.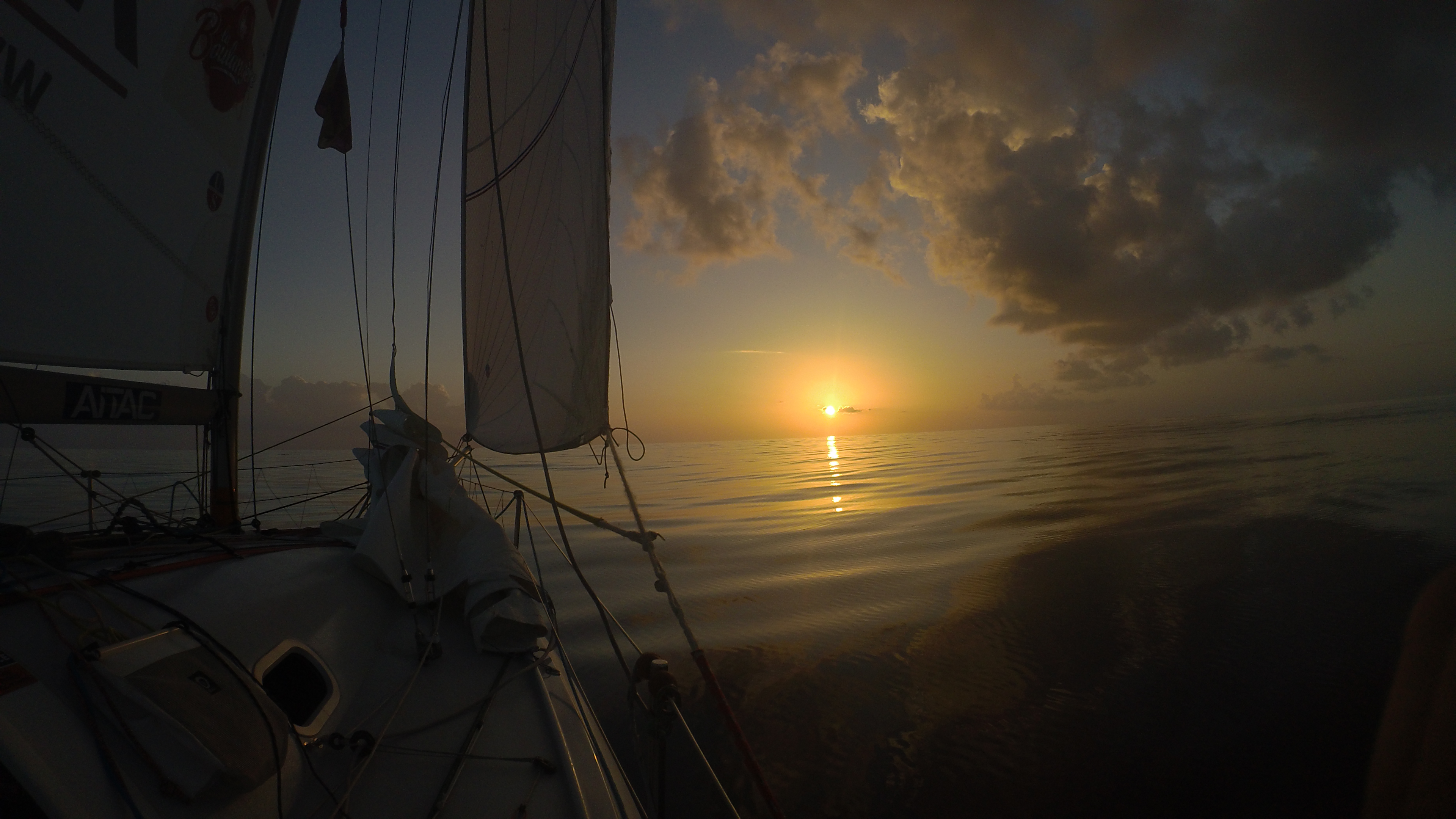 And step by step, we come ahead of the group. On the final day we are pretty pumped and I don't even realize that I am in full racing mode. I am a little tired seeing I didn't sleep much in the petole, but I know we are near the finish and I push some more. But that's no good, pushing too hard when you're tired doesn't pay. I can't focus, my spinnaker is collapsing too often and my jibes are not as smart as I think they are. I guess I'm not, too.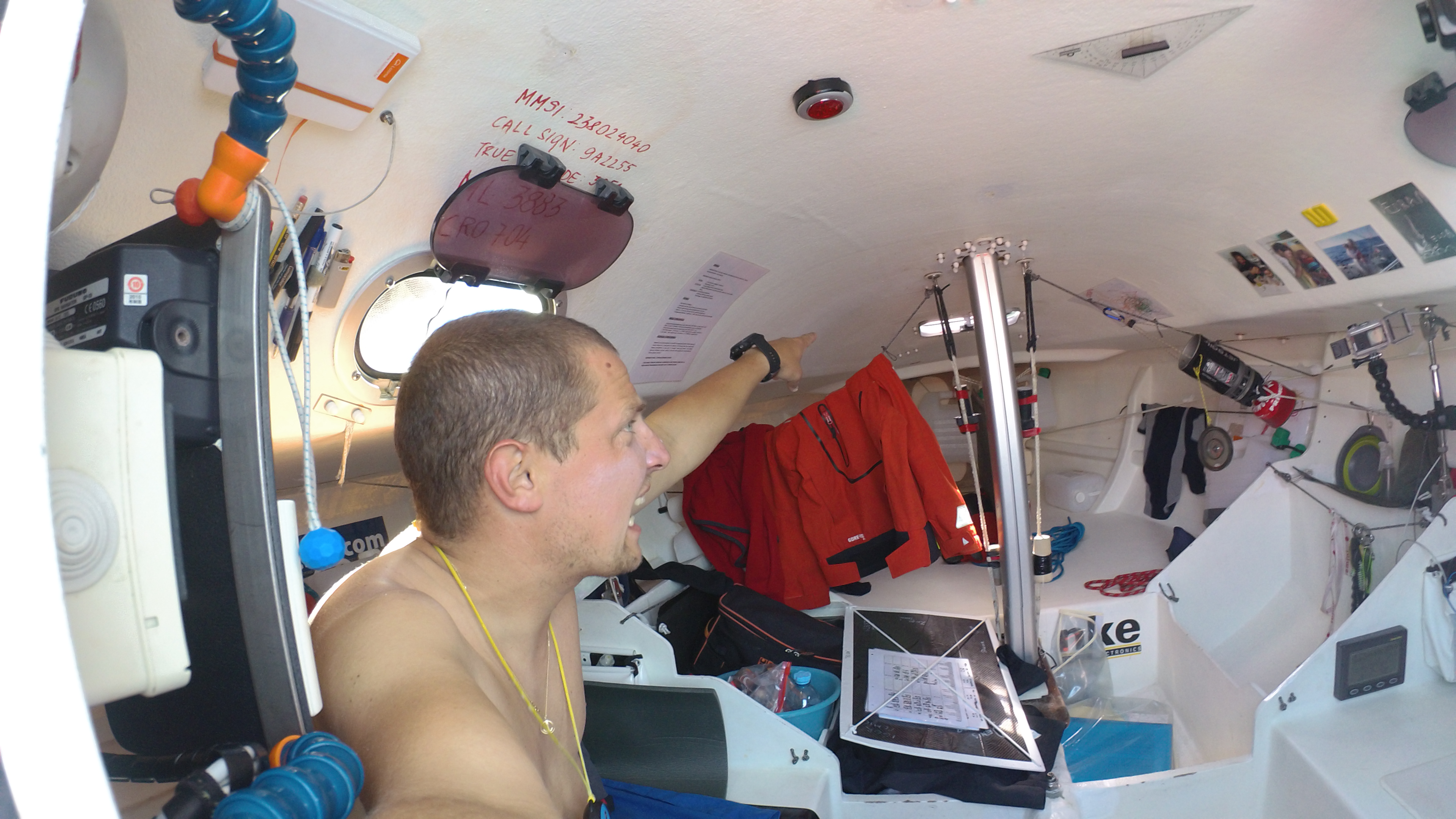 But in the end we finish 17th, which is a number much lower than expected. It's October 12th, 2.30 UTC when we come to Las Palmas, there's Vittoria and Ambrogio waiting with a beer, and all the other Mini crowd hanging around. So we drink a couple of more, we feel like we deserved it. In these 10 days, 12 hours and 30 minutes, we lived both the human and the competitive aspect of this leg, making it an experience we will hardly forget.