MINI FASTNET 2016. - The return of the Jedi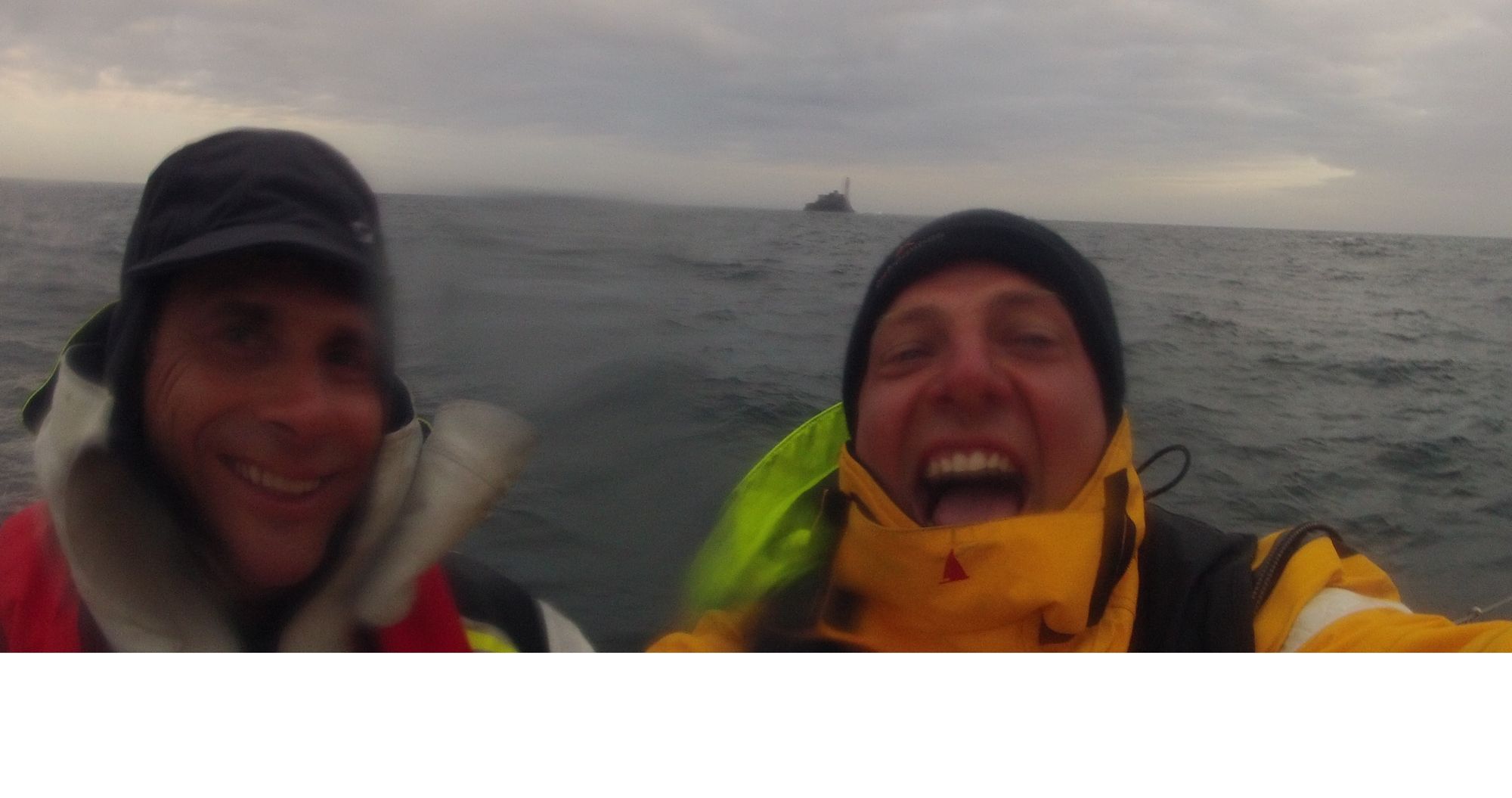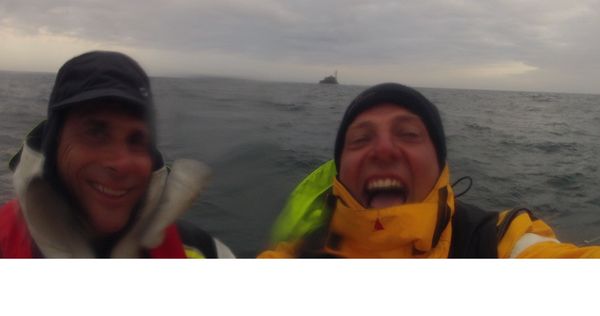 Doaurenez is a small village in Brittany, France. 20.000 souls, most of them sea oriented. What a beautiful sight to see - every day at least 30 boats out sailing in the Bay of Douarnenez. Fishermen, sailors, seamen.. For almost 20 days we were also a part of this seasharade.. And are proud and happy to be so.
Having finished all the keelbox repairs, I had to help Eloa get back on the water. Pay up, boat in, must up, trim up, equipment on, sails in..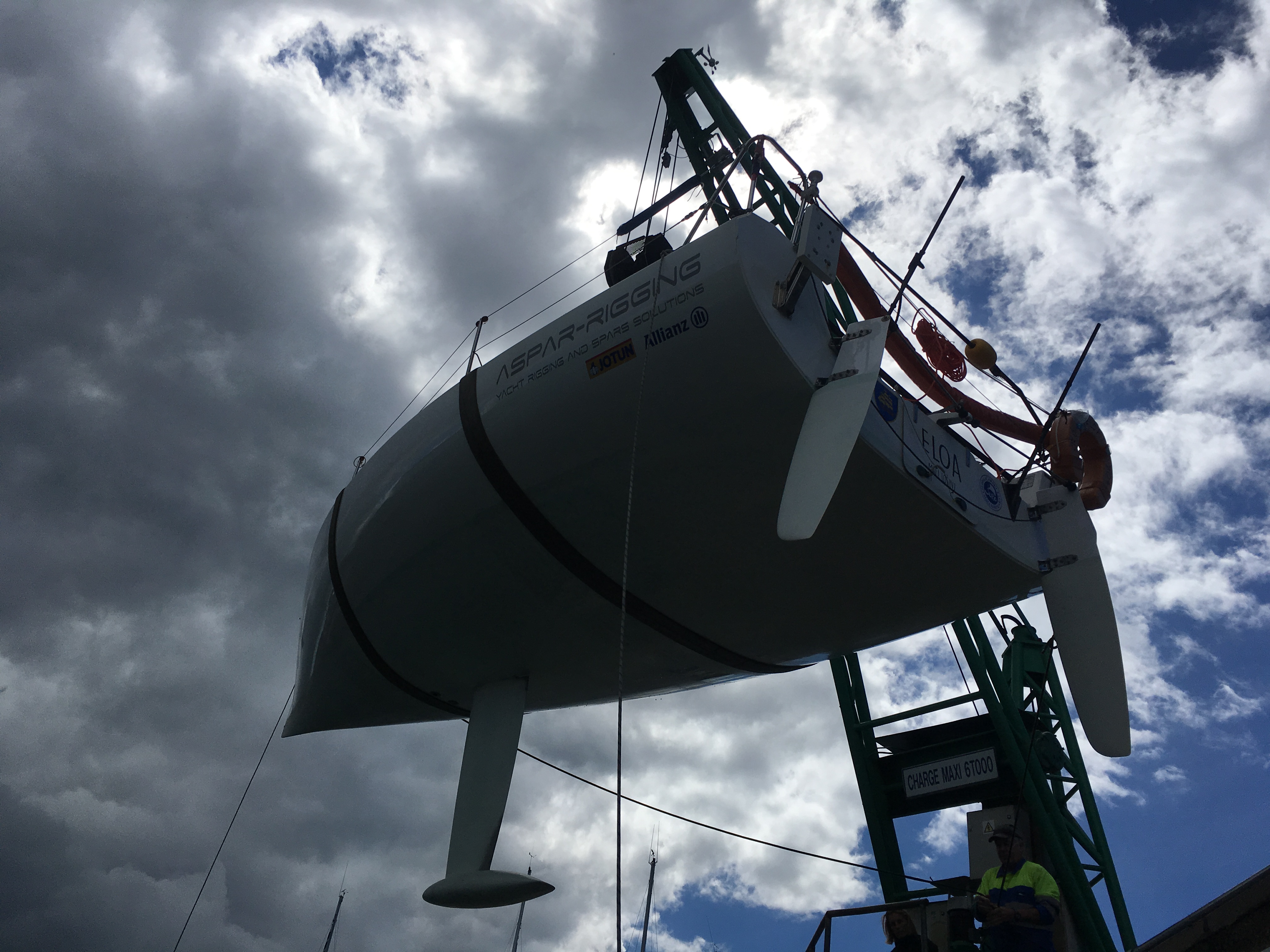 And there she was, all ready for the new challenge - The Mini Fastnet, the race starting from Doaurnenez - France, touching the Wolfrock lighthouse in the exEU country of England, around the mythical Fastnet lighthouse in Ireland and back to Douarnenez. 600 NM of pure pleasure. Our partner in this unique experience was the, also mythical, Darko Hajdinjak, a sailor who needs no introduction - he sailed almost every kind of boat.. Except the Mini. Him and Andraz (Dado's co-skipper for this race and a veeery experienced Mini sailor with 2 MT finishes) flew in from Croatia 2 days before the prologue on Saturday. The sailing stories kicked in immediately and we were getting into the spirit of the race with Andraz telling his experiences in the 7 Fastnet races he did. Him and Kristian did the 2005 and 2007 Mini Transats and had a very elaborated and successful campaign in which they learned pretty much everything one needs to know about sailing a Mini. So I don't need to tell you how carefully we listened to his stories.. On Friday I finally introduced Darko to Eloa and he was pretty enthusiastic about sailing a Mini.. We went out to test sail Eloa in 20 knots of NW and his eyes popped. Pretty fast and stable for a 6.5 meter boat! I felt really confident about sailing this race with Darko, I knew he could make Eloa sail even faster and with all his sailing experience I was hoping to learn more about everything.. And I did.
The prologue race was scheduled on Saturday. We sailed conservatively but still managed to break a mainsail batten and had to rush back to port to repair the batten and its pocket. This proved to be a good thing, seeing all the battens were mounted incorrectly so we still had time to repair them for the race. Having fixed the battens, the boat was ready. Back in our base we started all the necessary logistic preparations - routings, weather forecasts, food supplies, clothing selection.. Under Andraz's guidance, it all went pretty well and we managed to learn a tiny bit about what will be our most important race prep part for the next year and the Mini Transat race. The morning of the race we slept a bit longer and then went to attend the meteo briefing. The first night will be fast and furious with a cold front pushing us towards La Manche. After the cold front, the wind will turn to W-NW meaning we will sail an upwind course to Fastnet. On the way home, there will be a transition phase with less wind. Well, the forecast was pretty exact and we were pretty horny for the start of the race. I was incredibly calm before the start. I was thinking of the possibilities this race has to offer - to learn from Darko, from the Ocean, from Eloa.. And I was pretty eager to start. After the first general recall, the second start is a "Bon depart, bon depart!" meaning - we're off! We are sailing a short upwind leg to an offset buoy, than to La Vielle and into the Chanal du Four. It's our first test, the narrow passages between the rocks and the islands in the Four, where two boats ran ashore. I remember passing a 3.8 meter shallow which was a nail biting part of the race, but it all went well. We are sailing under full main and Code0 which we later change to Code5. The wind begins to build up and with nightfall Eloa is surfing at respectable speeds - 12-16 kts. We put the first reef in the main and the wet ride goes on. But the wind is turning west and we are broaching pretty often trying to keep our course to the Wolfrock lighthouse. As we pass La Manche, there are plenty of merchant ships crossing our way, one even a little to close seeing we didn't see it. As the morning comes, I am trying to persuade Darko to change the Code5 to Code0, but he is right not to and we are flying some more. Until the spi pole downfucker explodes and the spi pole is pointing to the sky. Code5 down and we're continuing with only the jib. A stroke of luck I'd say, because if it didn't break, we would still be there surfing down the sexy Atlantic waves. Speaking of waves, there's always at least three different waves crossing in the ocean. You just don't eat and drink much until you get used to them..
A much needed rest with light winds around Wolfrock / Longships which we round with an Ofcet meaning we are sailing a good race?! Hope so. We repair the damages onboard - the broken 5mm Dyneema downfucker, the broken baby stay shackle, the twisted backstay.. Now we are sailing a looong upwind leg towards Fastnet meaning our necks will probably get cramped from looking towards Ireland. But you get used to it, no other way.. During the second night, Eloa is getting wet inside. Are we too sexy for her or is she taking on water? It's a pretty shitty feeling when you pump out 5 litres of water and just two hours later you have to do the same. Something's wrong, and detective Darko is on the case. He finds out two untightened screws on the starboard rudder bracket. They probably got loose the night before, seeing it was the starboard rudder getting all the load. Having fixed that, we are calmly sailing on. Darko is an extremely cool and calm sailor, with an enormous knowledge about boat and sail trim, and sailing techniques. What I liked best was his approach to different kinds of problems. And his will to sail fast. All the times. As we are getting closer to Fastnet, the second day is getting to an end but we are lucky enough to see the mighty Rock in daylight. The sea is boiling with currents but the impressive lighthouse is quite confident, it has seen worse.. After a short spi run, we go back to close reaching. That's where we make our only mistake in the race, I guess. With Eloa sailing 7.5 knots at night and on the rhumbline, we are bedazzled by the comfy sail under the stars and we don't hoist the Code0. It's here I learned that sailing a Mini must never be comfy! You have to push. Just a bit over the limit. Even if 20 degrees off course. But we didn't loose that much seeing the day after the wind drops and we are enjoying a beautiful, sunny, clothesdrying day. Finally, the wind picks up and we are sailing the big kite towards Doaurnenez. We're almost there, the excitement builds up, we are near are goal - the qualification for the Mini Transat 2017.! It's a pretty big deal for us seeing we don't have much free time and there will be a lot of Series boats competing in the Transat. It's the new generation Series boats, the Pogo3s, the Ofcets, they are the one that have the most competitive fleet, almost a monotype fleet. But so do we, sailing are 'ancienne generation' boats, still similar one to each other. Once in the Bay of Douarnenez we get some sweet gusts and Eloa is flying towards the finish line. Well done Darko, well done Eloa! We finish on Thursday, June 23rd at 19:25, after 18 Pogo3s and 2 Ofcets. Feels good!