SEASON 2016. DIGESTIF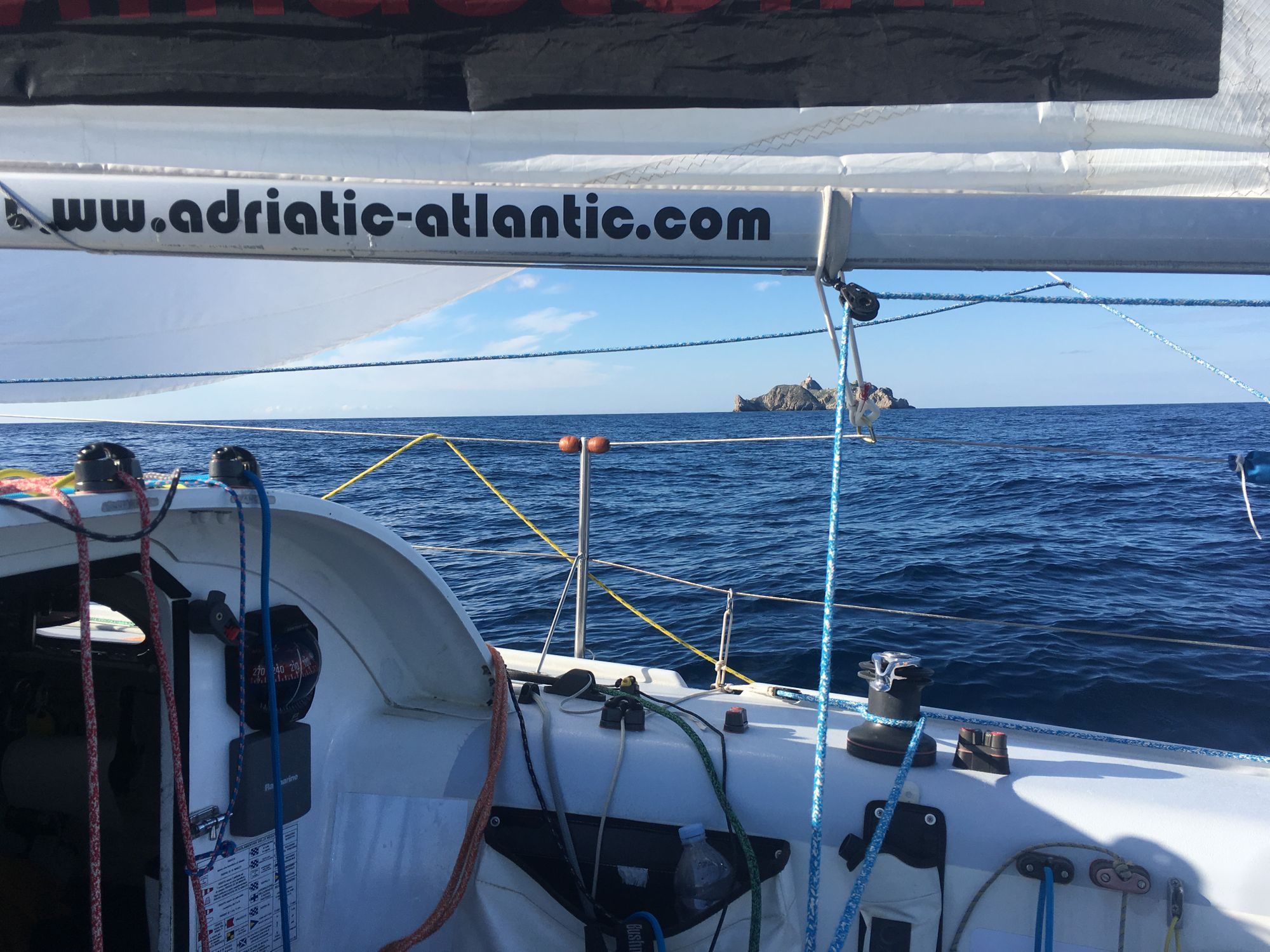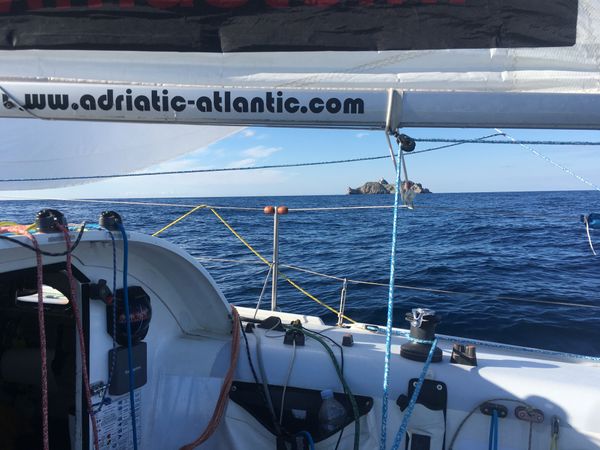 Where there is an [aperitif](http://www.adriatic-atlantic.com/season-2016-preparations/), there should be a digestif, too. The main course being the [Trophee MAP](http://www.adriatic-atlantic.com/trophee-marie-agnes-peron-2016-2/) and the [Mini Fastnet](http://www.adriatic-atlantic.com/mini-fastnet-2016-the-return-of-the-jedi/), there was plenty to digest afterwards. Let's start with the most important, the entry list for the Mini Transat 2017. I was pretty nervous with the dates of the entries (December 3rd) closing in. I knew I didn't have that many miles (as e.g. the SAS participants) and I prepared all my documents one week before the entries even opened. Than I sent everything via e-mail and then went to Paris. With my family, which was a real relief, but still.. I was quite eager to get to the Salon Nautique and after talking to Jean Saucet of the La Rochelle MT 2017 Organizing Committee, I got the impression we (Dado and me) stood a good chance to find our spot on the starting list of the Mini Transat 2017. THE STARTING LIST OF THE MINI TRANSAT 2017.!!! And just one week later the confirmation arrived and our names where on that same list. It's a big deal, a big fucking deal. But the road ahead is still long.. So let's start from the begging - after the ending of the Atlantic courses in June..
LOSINJSKA (August)
First in the village is better than last in the city, they say. Well, especially if it's your home village, and if you are the head of the [Organizing Committee](http://jk-jugo.hr/). One week before the race Eloa was still packed on her canting trailer, the keel was lying in one part of the marina, the mast in the other. The list of duties regarding the organization of the regatta was (too) long, but with the help of the omnipresent friends I managed to assemble Eloa and get her all dressed up and ready for her home port dance. Unfortunately, Igor - who was supposed to sail this regatta with us - cancelled just a few days earlier and left me and Eloa standing alone. It's not easy to sail the windward - leeward courses solo on a Mini so I needed a second set of hands. And then the luck smiled at me, as it usually does, and the golden hands of the previous owner - Simone - appeared in Losinj just one night before the race. He was skippering a nice cruiser around the Adriatic and seeing the bad weather predictions, he decided to stay in Losinj. And was pretty happy to sail his ex 704, too.. But he could only sail the first day, the short navigational day through the islands of the Losinj archipelago. We started a bit late, but with good boat speed and some sweet tactical moves we soon jumped in the front of the fleet. There were around 40 boats from ITA, AUT, SLO and FRA sailing in this race, in her 34. edition.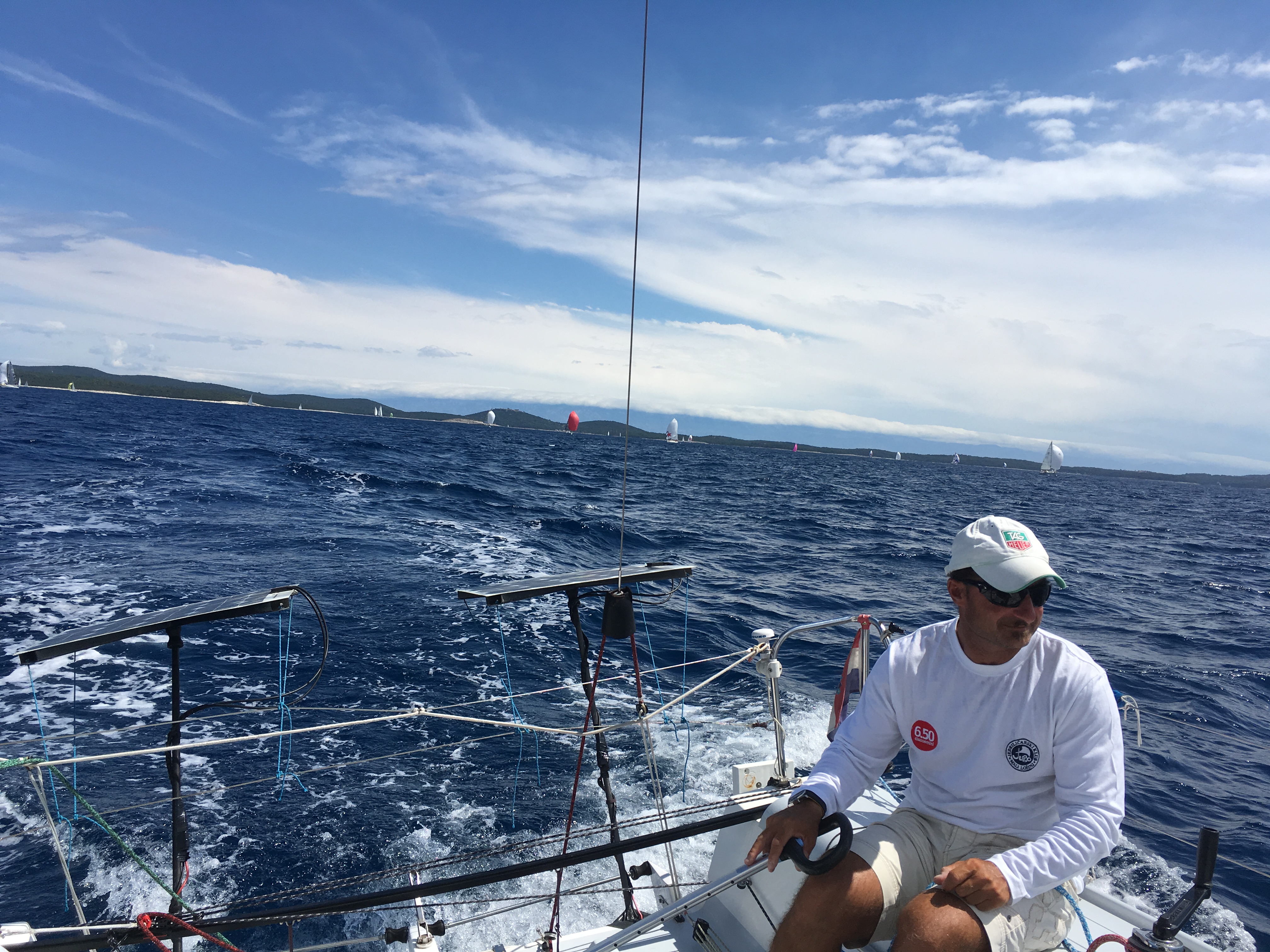 The wind was shifty and we soon engaged in a fierce battle with our biggest opponents - an Elliot and a Melges. It was a pretty emotional day for Simone, and a pretty educational day for me. It's nice to hear other people's experiences about sailing a Mini, especially the transatlantic ones. We finished second in our group and went straight to the bar. The stories lasted long in the night, the glasses were leaking and the eyes started going red - it was time to go home, the windward - leeward courses are on tomorrow. As Simone had his work obligations, I asked my friend Ivan to sail the Sunday races with me. He's a great wind surfer and adventure seeker, and seeing his previous sailing experience, I was sure he would be able to annul my hangover from the night before.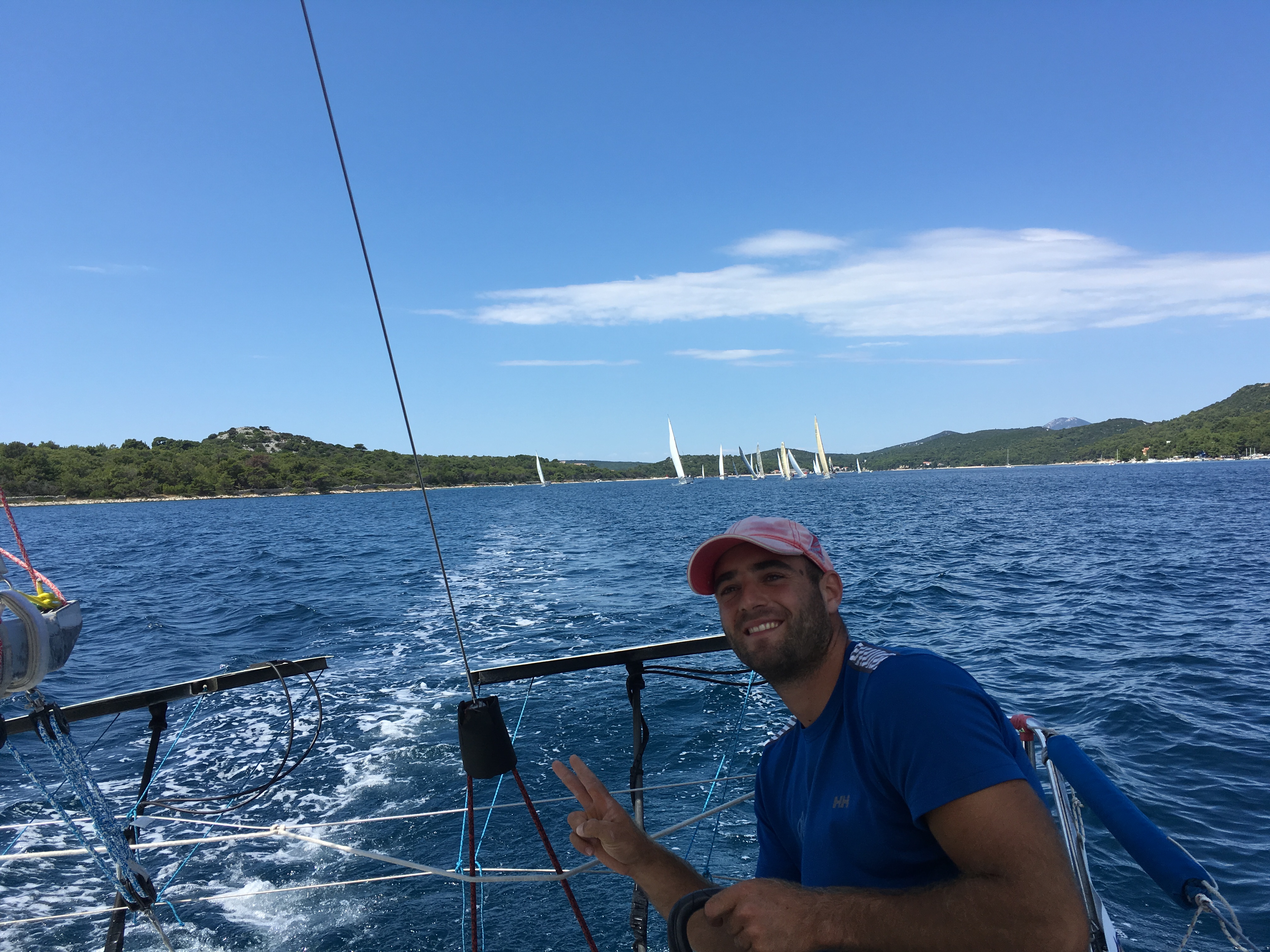 And so it was, we won the first race, but came in second (for a boat length) in the final race of the day, behind the guys from Elliot - so the final score was: Elliot first, Mini second, Melges third. Well, nothing to complain about.
GALIJOLA (September)
The second race of the Digestif Series was Galijola, named after a small rock in the North Adriatic. It's a 75 nm long race from Opatija around Galijola and back, which I sailed with a long time friend - Ernest - who didn't sail for a while, but you never forget how to ride a bicycle, don't you?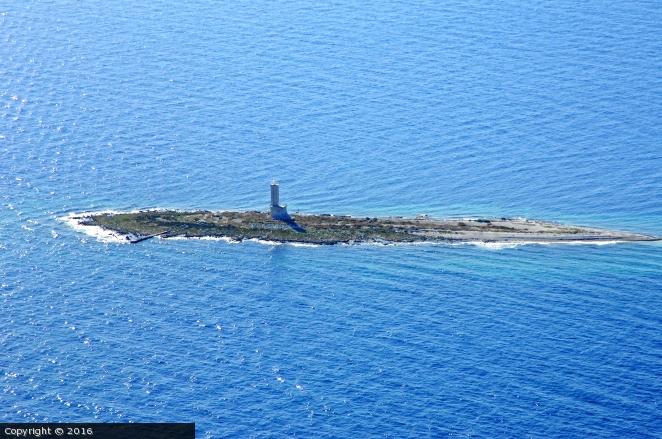 We transferred the boat together from Losinj to Opatija chatting all the way, like two gals. We had time to prepare the boat and supplies well, seeing the forecasted light winds. The starting gun fired just as the Sun went down with zero knots of wind and .1 knots of boat speed. But that was enough to launch us towards Vela Vrata and beyond. We sailed an excellent night downwind run with pretty well timed jibes and reached Galijola 4th overall. Pretty impressive for such a small boat, but it was time to sail upwind, so we knew the faster boats would get to us. Our biggest opponent for this race was a Melges 24 which later took our Windex off in a clear starboard - port tack incident. It could have gone much worse.. The next day, noonish, the wind died out and we are 1 nm and a couple of hours away from the finish line. But we finished 7th overall and first in class, a big success. A big dinner steak for Erno and me, and some sweet celebration with Eloa on the way home..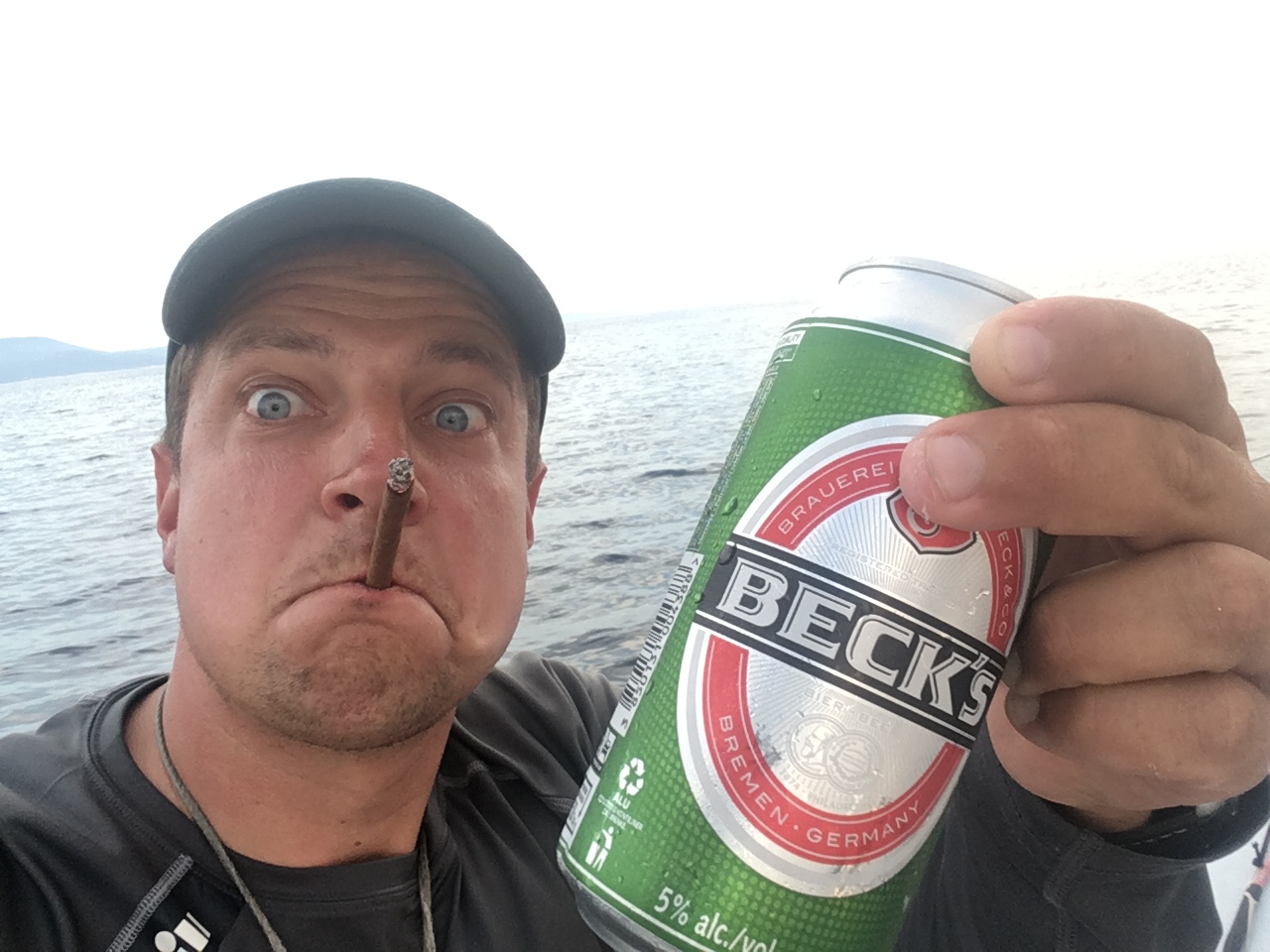 VISKA (October)
Last year we didn't get to the start of Viska due to some heavy toothache and bad weather. This year no toothache, no bad weather and still - no Viska regatta. Karma? We started the 120 nm transfer two nights before the race and were pretty sure to get to Split on time. But the transfer weather is pretty much always the same - upwind beating. And upwind beating in a Mini is, to say the least, very slow. We were optimistic, but we didn't get to Split on time so we headed straight to Vis.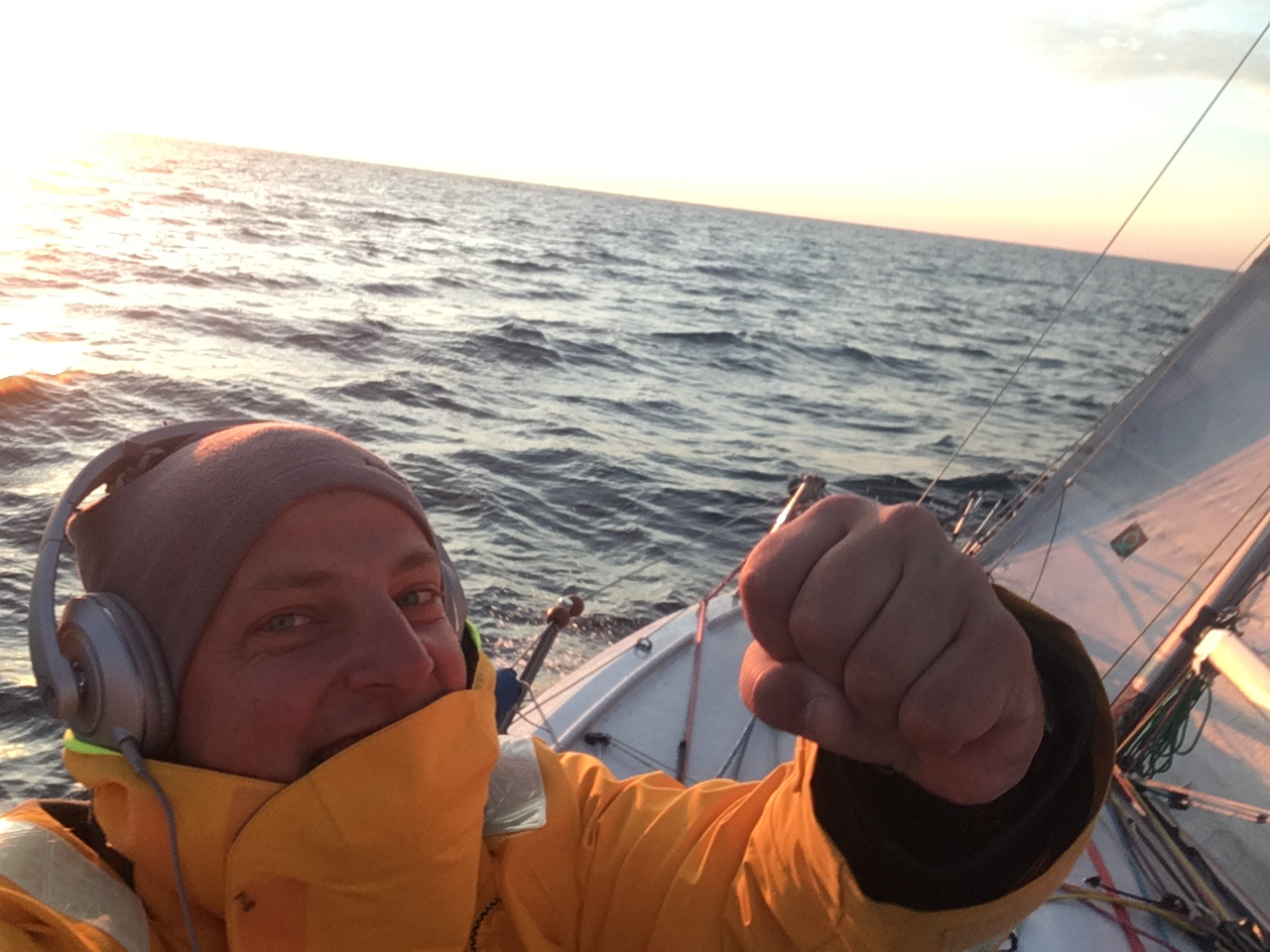 We made a backup plan - the weather forecast showed pretty strong jugo (SE) winds on Saturday - so we could use them to prove the transfer upwind beating law wrong and train some fun downwind sailing. So Friday we waited for all the boats to come to Vis - with some spectacular sights as the wind reached 35 knots - and headed for dinner and wine with all the Losinj crews - "Roxanne" and "Frizimenula". Of course - the food and wine in Vis were excellent. And I feel it immediately in the morning when I wake up - I shouldn't have stayed up until 4 AM, I'm pretty hangover.. Well, WTF, I put a reef in the main and a reef in the jib, and after some final weather advice from Andraz and Maja I start my speedy descent towards Losinj at around 5 PM. 38 knots of jugo, a 3 meter swell and speeds up to 17 knots. I sober up pretty quickly and learn that sailing a Mini in these conditions isn't meant for drunkies. But of course, seeing it's a transfer, after a few hours of blasting through waves, the wind turns N and it's upwind beating all over again..
JABUKA (November)
Jabuka is a small volcanic rock 35 nm offshore. It has no lighthouses and it's quite black, so there have been some running aground incidents in the past. But this year, as the forecast showed some pretty nasty conditions, we didn't have the possibility to see it, neither to run aground.
Dado (CRO 602) and me started our transfer two days earlier, with some nice sailing conditions which slowly deteriorated and as I reached Tribunj there were gusts up to 25 knots, heavy rain and hail - grains of ice coming down from the sky. A pretty unpleasant but very musical atmospheric phenomena as the small balls of ice kept pounding on the boom, mast and chandeliers making some sweet orchestral sounds. "Bora (NE) and tramontana (N) up to 35 knots" - said Jure, and when Jure speaks, it's pretty much true. Jure Jerman is the wizard of meteorology, he hides his magic ball pretty well - I've never seen it - but he predicts the future so I guess it's there somewhere. The start is postponed for early Saturday morning when the conditions should allow a pretty windy but manageable race, which is shortened to a costal 35 nm course, instead of the supposed 95 nm around Jabuka. Four Minis competing in this race: Pavel and Davor on a Pogo 3 (CZE 908), Dado and Luka on a Pogo 2 (CRO 602), Dario and Hrvoje on a Lucas/Raison proto (CRO 231) and us (CRO 704). I think that there have never been so many Minis in a race in Croatian waters, a big success! 15 knots of burin and off we go. We start pretty well but then the troubles begin. We jibe unprepared, the bowsprit folds in and the windward sheet goes around it. Spinnaker down, undo everything and spi up again. After a short close reach, we put the medium spi up and sail a nice downwind run to the Blitvenica lighthouse. But of course, we make some technical mistakes and are unable to catch 602 who sailed a perfect run and rounded the lighthouse 2 nm in front.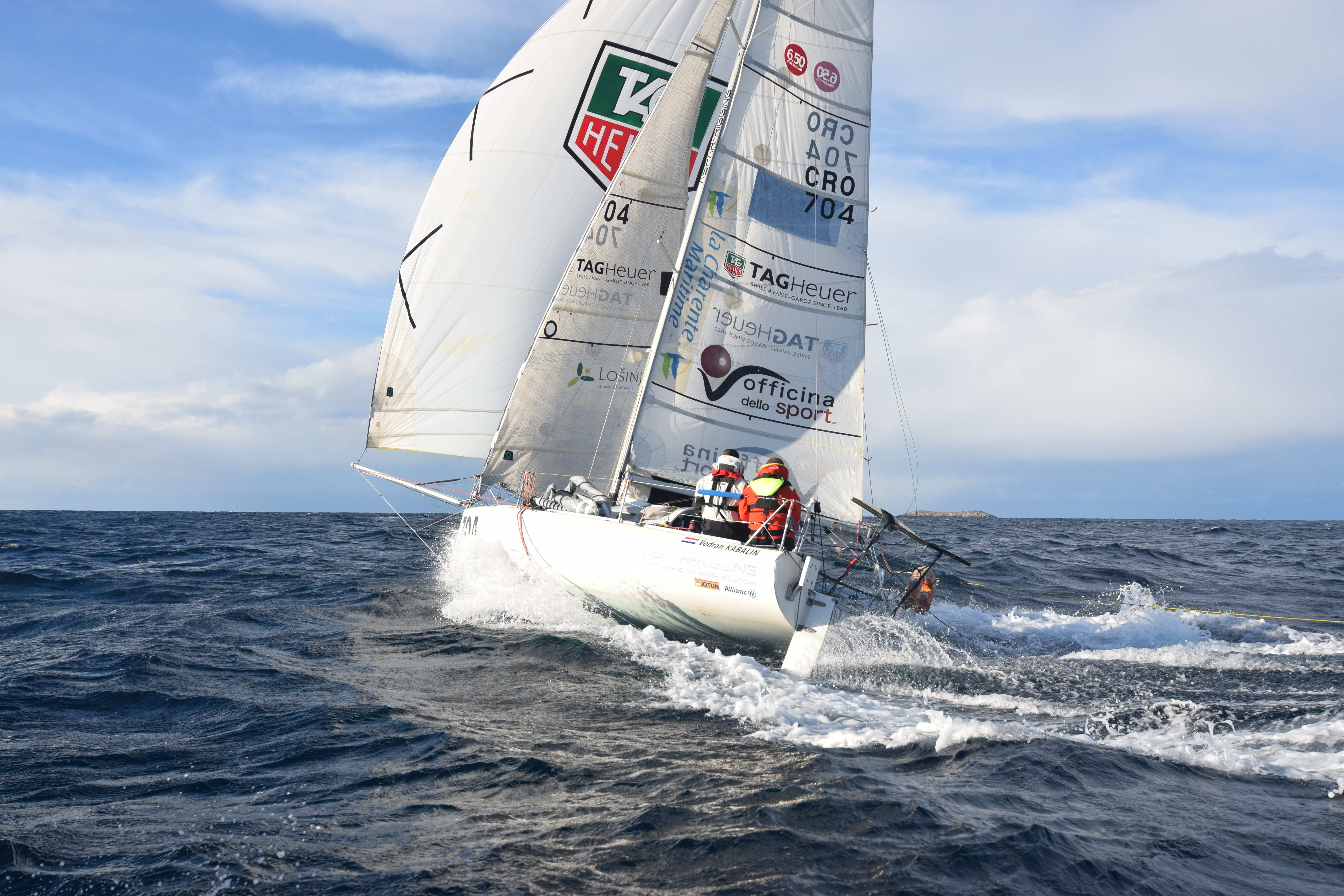 908 is rounding Blitvenica just a couple of boat lengths behind, the proto is well behind. After Blitvenica there are 16 nm to the next waypoint - the Mulo lighthouse. We sail with the first reef in the main and jib. 908 is sailing a higher course and after a few miles he hoists the Code0. We can only watch him blast off and close in on Dado and Luka on 602. I'm pretty impressed when I realize that we made the same mistake as in the Fastnet - we sail the direct course with the jib while we could have sailed a few degrees off course with the Code0. Dado does the same mistake and loses first place in the end. I hope this time we both learned that we should (at least try to) put up a bigger front sail, seeing the Minis have very stable hulls and can sail up to 20% faster with these sail configurations. We round Mulo in third place and start the upwind leg to the finish line in Vodice. The breeze picks up and soon we are sailing in 30 knots of tramontana. Two reefs in the main and two in the jib - Eloa is wet but manageable and we finish before dark.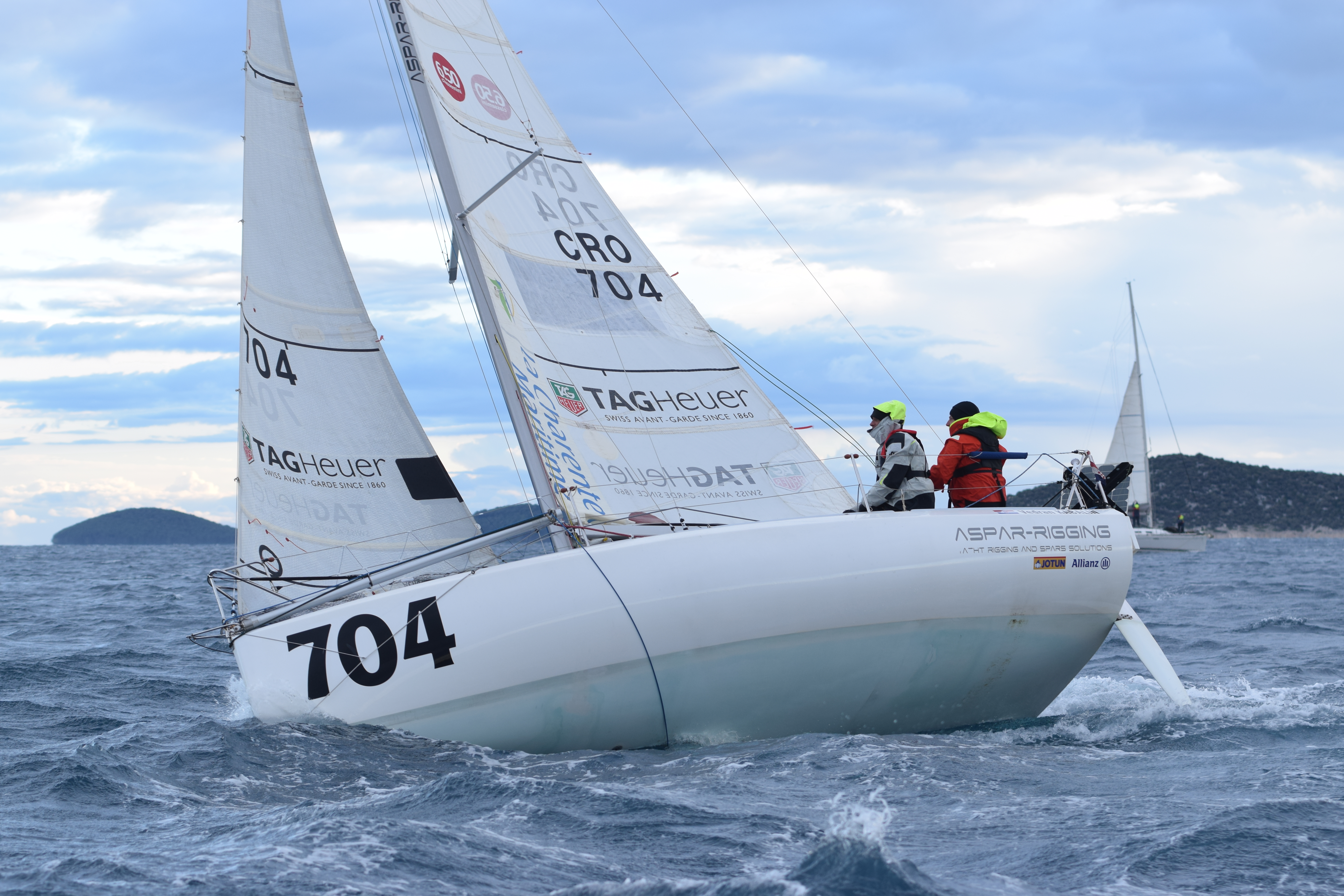 It's pretty cold, so the rakijica after the race goes down pretty smoothly. We have the luck of having such a great sailing company at dinner, where Andraz's and Sime's experiences from their Transats are more than welcome. In the and, Pavel and Davor take first place in the Mini fleet, Dado and Luka second, we are third and Dario and Hrvoje fourth. It was yet another great sailing experience with Darko whom I've started too look at as some kind of coach, seeing my learning curve grows rapidly in his company. A well deserved break and the next day CZE 908 and CRO 704 are sailing back to Losinj, their base for this winter's training.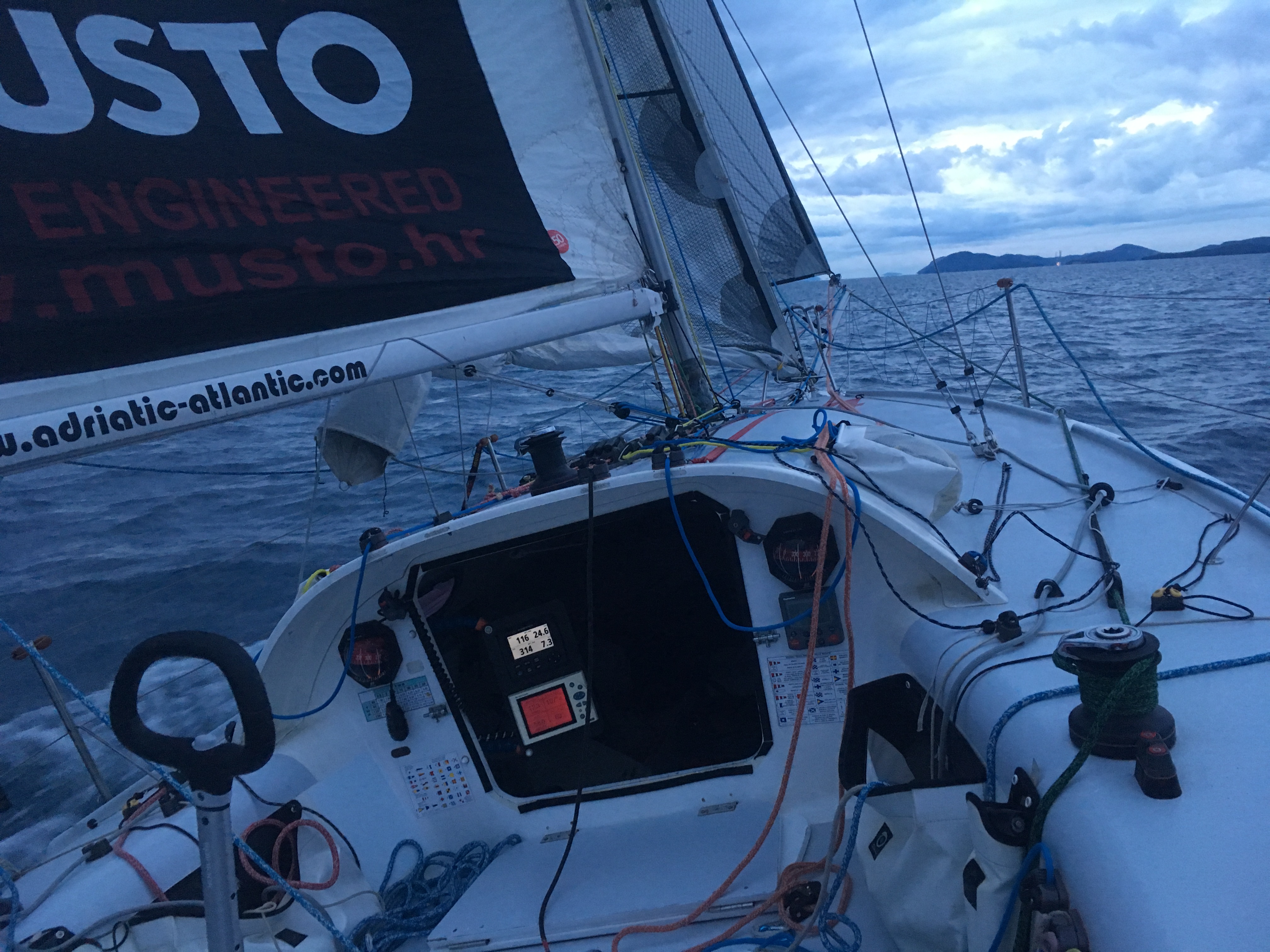 SV. NIKOLA
The final race of the season should be pretty exciting. It's a shorthanded 160 nm race for single or double handed crews. Three Minis at the starting line - Pavel, Dado and me - all sailing solo. A real treat. Pavel and me are sailing to the start in Split from Losinj, while Dado should get there earlier seeing he left his boat in Tribunj, Sime's place, where they repaired some of his badly injured electronic wiring. We arrive the evening before the regatta, have a drink with the organizers from [JK Mornar](http://www.jk-mornar.hr/category/novosti/) and head off to sleep. The weather conditions for the first day should be ideal with winds up to 20 knots, but the second part of the race will see us battling light winds until the finish line in Komiza, Vis. Besides the Minis, there are three more solo sailors and seven double handed crews. The interesting part - 3 Minis, 1 Figaro and 1 Class40 - is short - handed sailing finding its place in Croatian waters?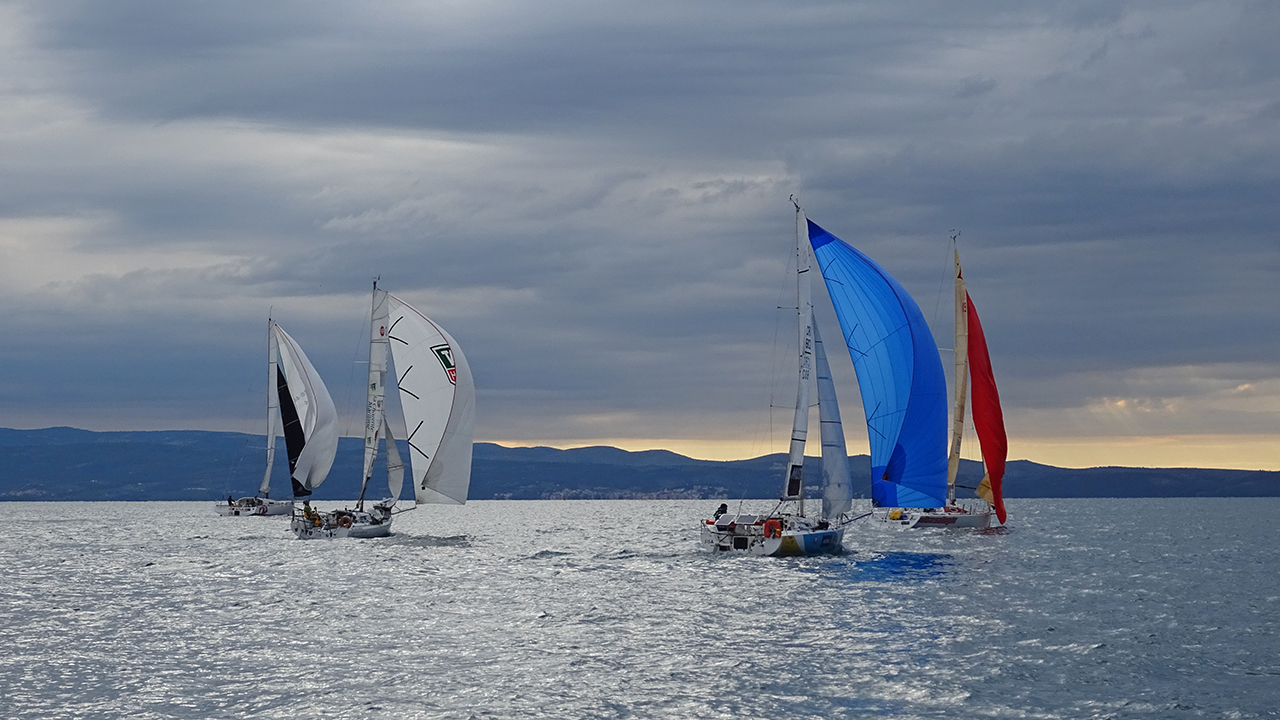 We start well, starboard tack with jib, jibe and the big spinnaker up ASAP. A few well timed jibes and we round the first waypoint - islet of Stipanska - first of the Minis, but veeery close to each other. The next leg is supposed to take us to the western tip of Korcula island and round the next waypoint - the lighthouse of Glavat. It's in this leg that we make the biggest mistake in the race. Seeing it's not a close hauled leg, we put up the Code0. But this time it's the wrong thing to do, especially if your bowsprit folds in, again! We loose 45 minutes trying to get the sail out of the water. In the process we get all wet, we loose precious energy and we still haven't eaten anything. I remember it was around 2 PM when this mess finished and I went inside to put on some dry clothes and grab a snack. Pavel and Dado are still on the horizon, but a good 4 miles ahead. I remain calm, I'm recalling the advice from my mental trainers - Sanja and Neno - and I'm pretty pumped on catching the others. So I trim the sails hard and head for a risky shortcut in Pakleni islands - Zdrelac. I should gain a few miles heading that way, I think to myself, although I remember the locals said I should watch out for currents if the wind drops. But the wind is good, I even put the Code0 up and now I'm gaining height over the others.. Ups, as I enter the narrow strait (around 70 meters wide), the wind dies out and I'm stuck. I'm even going reverse towards the rocks and I don't have my oar which fell overboard in the previous mess with the Code0. After 20 minutes of a complete stop, a few knots of SE show up and we exit the damn strait.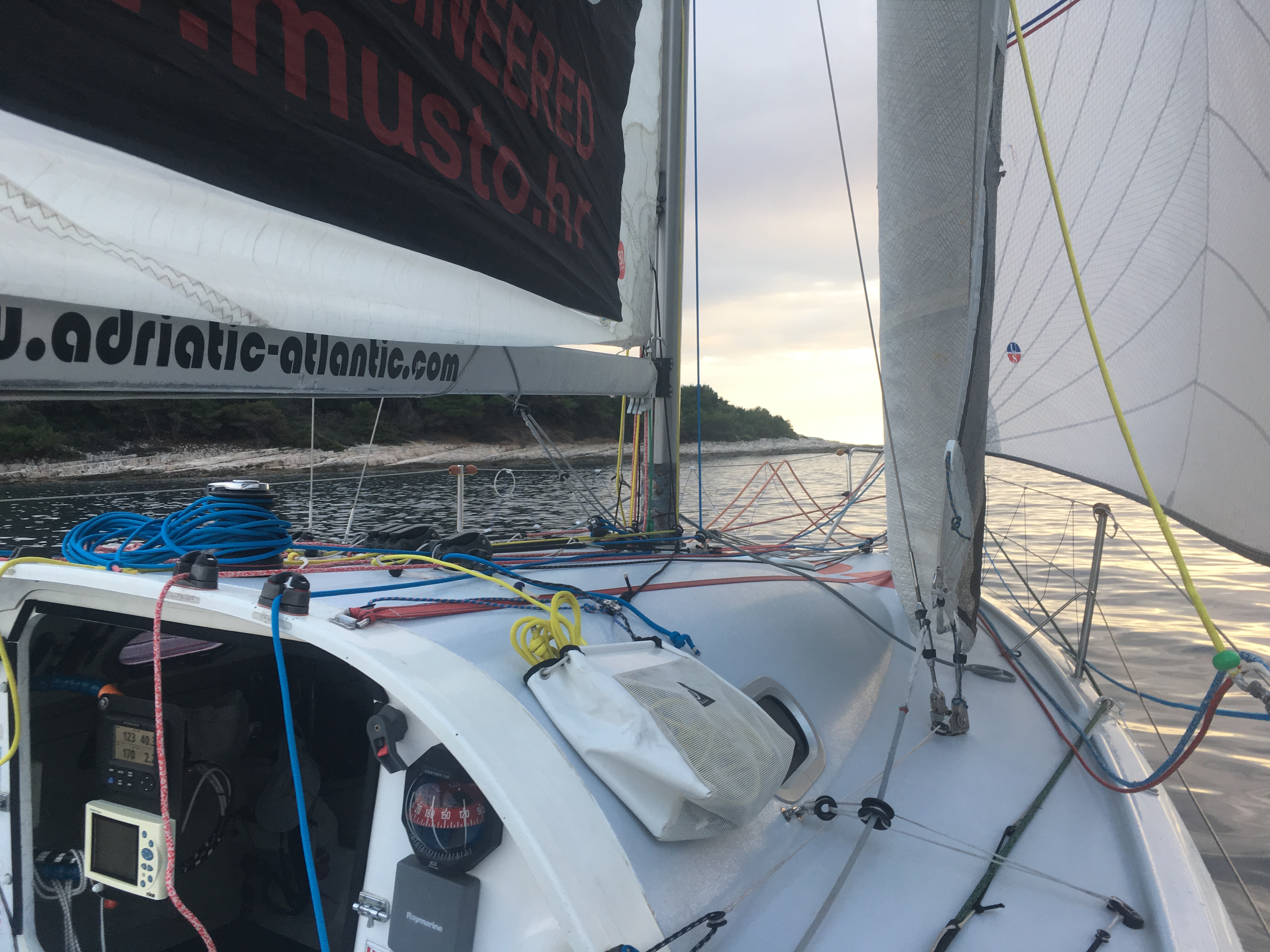 But we still gained on the other Minis! The night falls and we are sailing upwind towards Glavat. The unusual but useful thing in this race is the fact that you can use cell phones and check the other boats' trackers. I see Pavel in front, while Dado should come behind us at the next waypoint. As we round it, the wind picks up to 20 knots, the big spi is up and we are blasting towards Palagruza which is some 40 nm ahead. During the night we don't jibe when we should and Pavel is gaining, he's 6 miles ahead now. But the race is still long, everything can happen especially with light winds. We round Palagruza in beautiful warm and sunny weather with the wind dying out. It seems the final leg to Komiza will be the longest.. OK, nerves aside, light wind stacking mode inside and no stress. We'll finish when we finish.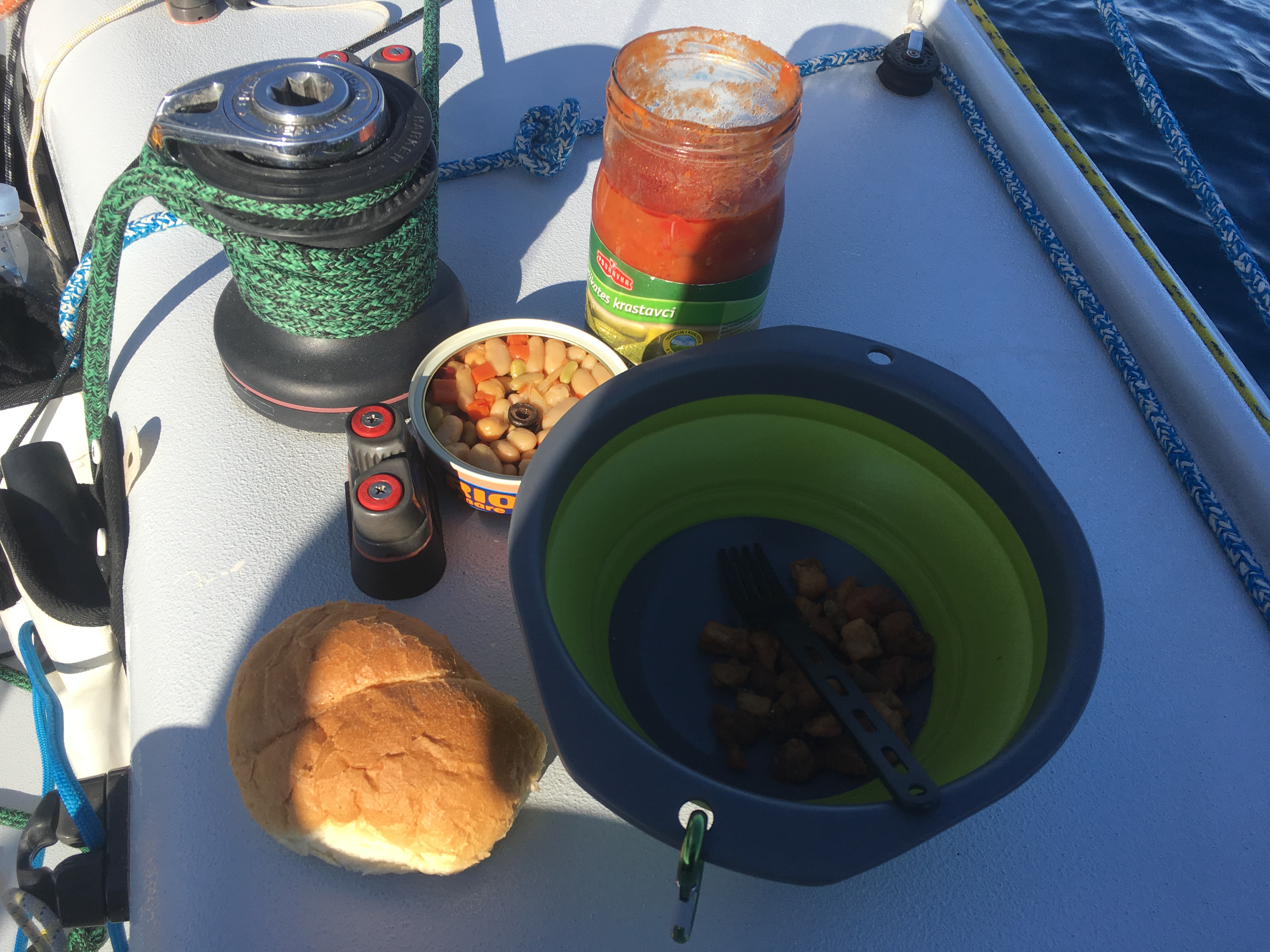 Towards Vis we gain more miles on both Pavel and Dado. We can even see Pavel in front, that's good. And keeps the morale high. After a whole day of light winds, we are near Komiza with Pavel just 500 meters in front! But the wind picks up and we both start sailing the last 2 miles to the finish. It was near, but not enough - we finish second just 15 minutes behind. It's 3 AM, so a beer with Pavel is in place. The organizing committee is welcoming us with a warm meal and beers, a great crowd. It's just 7-8 people organizing this regatta, and they're damn good at doing it! Dado comes in with the Sun raising, we are already sleeping. So is he when we wake up and head home.. The last 120 nm to our home port for this season. A damn good one, too..